State crime researchers expose role of Western companies in Uzbek corruption scandal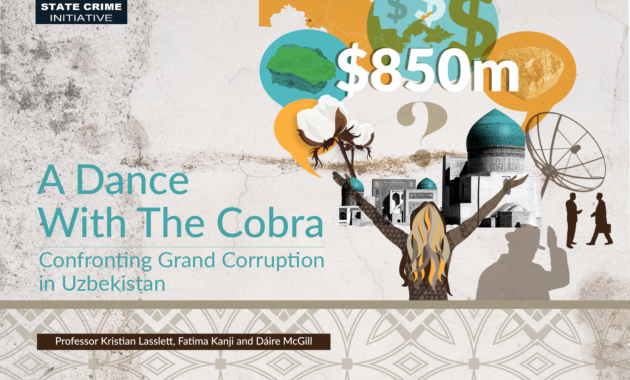 London, 8 August 2017: Evidence in a new research report published today shows that the government of Uzbekistan acted as an organised crime network, with state agencies conducting racketeering activity that benefited political heiress Gulnara Karimova, the elder daughter of Islam Karimov, the leader of Uzbekistan from 1989 to his death in 2016.
The findings are published by the International State Crime Initiative, based at Queen Mary University of London (QMUL), in a report called "A Dance with the Cobra': Confronting Grand Corruption in Uzbekistan."
The report finds that the government helped solicit bribes from telecommunications firms owned by Swedish, Norwegian, Russian, and German interests. Assets derived from the telecommunications protection racket, totaling over $850 million, are currently the target of U.S. Department of Justice forfeiture proceedings initiated in 2016.
Professor Penny Green, Director of the International State Crime Initiative at QMUL, said: "This report reveals the transnational nature of corruption and the intimate role Western jurisdictions play in supporting and protecting some of the worst state organised crime rackets operating today."
The report details how foreign corporations and banks including Citibank, Coca-Cola, Standard Chartered, Lombard Odier, and others were implicated in the racketeering scheme, which led to significant sums of money being laundered through proxy companies – typically incorporated in British Overseas Territories. The researchers describe how these offshore corporations handled suspicious transactions worth tens of millions of dollars for Karimova, even after Karimova's illicit activities were first exposed in 2003 and 2004.
Professor Kristian Lasslett, author of the report and Executive Board member of the International State Crime Initiative said: "Evidence strongly suggests that Karimova oversaw a highly-organised syndicate whose racketeering operations were enacted through Uzbekistan's executive, judiciary, and national security branches, each of which acted as the syndicate's teeth. The Uzbek government remains systemically corrupt, and the evidence in this report suggests that certain Western actors, were aware of, if not wholly complicit in, the ugly reality of Karimova's schemes."
The report illustrates that state corruption in Uzbekistan was not limited to a few top government officials – but rather that the corruption is systemic and systematic, running through every level of government. The researchers argue that many of the fixers, envoys, advisers and managers in G. Karimova's criminal syndicate were senior officials in the state political and security apparatus, and have continued to be appointed to top posts within the Uzbek government since the scandal became public.
Connected Resources