Ivory Coast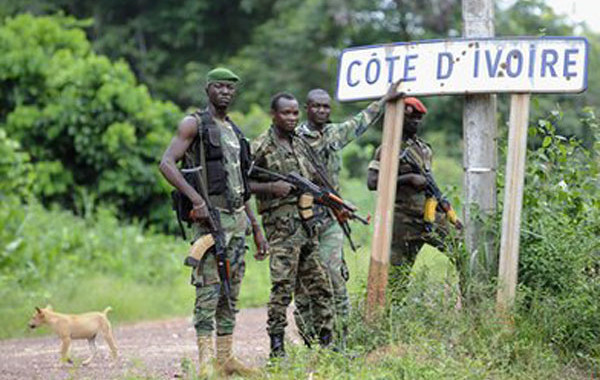 Ivory Coast (aka the Republic of Cote d'Ivoire) covers 322,500 sq. km. Its principal cities are Abidjan (economic capital, de facto political capital) and Yamoussoukro (official capital). Population is about 20 million; of which 10%-20% are indigenous, 35%-40% Muslim and 25%-35% Christian; with more than 60 ethnic groups, usually classified into five principal divisions: Akan (east, centre and southeast), Krou (southwest), Southern Mande (west), Northern Mande (northwest), Senoufo/Lobi (north centre and northeast). There is a high population growth rate, a high crime rate (particularly in Abidjan), a high incidence of AIDS, a multiplicity of tribes, sporadic student unrest, a differential rate of in-country development according to region, and a dichotomy of religion associated with region and ethnic group.
From 1904 to 1958 Cote d'Ivoire was part of the Federation of French West Africa, became an autonomous republic in December 1958 and became fully independent in 1960. French was retained as the official language and the French legal system was adopted. A mutual defence accord signed with France in 1961 provides for the stationing of French forces at Port Bouet, adjacent to the Abidjan Airport.
GDP is about $30 billion. Main sources are agriculture (cocoa, coffee, timber, rubber, corn, rice, tropical foods ) at 24% of GDP, industry (food processing, textiles) at 25% and Services at 51% of GDP. Production of offshore petroleum began in 1980. Exports of crude oil and refined oil products totalled about US$3 billion in 2008 and has been increasing year on year. Other exports include cocoa, coffee, timber, cotton, palm oil, pineapples, bananas and fish and the main export partners are Germany, Nigeria, Netherlands, France and the US. Imports are mainly fuel, consumer goods, basic foodstuffs (rice, wheat) and capital goods from Nigeria, France and China. Falling world market prices for primary export crops and government corruption and mismanagement led to steep reductions in foreign aid in 1998 and 1999, and led to the country's first coup in 1999.
Cote d'Ivoire's 2000 constitution provides for a strong presidency within the framework of a separation of powers. The president selects the prime minister, who is the head of government. The cabinet is selected by and is responsible to the prime minister. The unicameral National Assembly is composed of 225 members elected by direct universal suffrage for a 5-year term concurrently with the president. It passes on legislation typically introduced by the president, although it also can introduce legislation.
The failed 2002 coup attempt evolved into a rebellion, splitting the country in two. The Patriotic Movement of Cote d'Ivoire (MPCI) gained control of the northern half of the country. In mid-October 2002, government and MPCI representatives signed a ceasefire. In late November 2002, the western part of the country became a new military front with the emergence of two new rebel groups; the Ivoirian Popular Movement for the Great West and the Movement for Justice and Peace and both were allied with the MPCI, and the three groups subsequently called themselves the 'New Forces'. On July 4, 2003, the government and the New Forces signed an 'End of the War' declaration. On November 6, 2003 a government aircraft bombed a French military installation in Bouake, killing nine French soldiers and one American civilian. French forces retaliated by destroying the Ivoirian air force. On November 15, 2004 the United Nations Security Council issued an immediate arms embargo. The Pretoria Agreement, signed April 6, 2005 formally ended the country's state of war. On March 4, 2007 President Gbagbo and New Forces leader Guillaume Soro announced a peace agreement and at the end of March, Soro was named Prime Minister.
The delayed 2010 elections ended in bloodshed with both presidential candidates claiming victory in a stalemate that lasted months and saw the loss of many lives during the associated violence.