[ISCI PRESS RELEASE] Humanitarian crisis affecting Rohingya Muslims is the product of genocide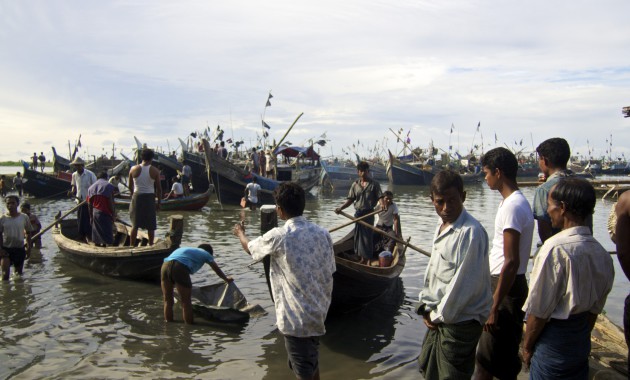 "The Rohingya are faced with only two options: stay and face annihilation, or flee."
[For immediate release]
London, 16 May 2015: Persecution of the Rohingya minority by the Myanmar government amounts to genocide, according to field research from the International State Crime Initiative (ISCI), based at Queen Mary University of London.
Experts from ISCI, led by Professor Penny Green, conducted four months of fieldwork in Myanmar between October 2014 and March 2015. The team was based primarily in Rakhine state, the home of the Muslim minority. There, they undertook detailed research which exposes the Myanmar state's crimes against the Rohingya.
The current crisis is, according to Professor Green, the direct result of government sponsored actions against the Rohingya, which together amount to genocide.
"The Myanmar government's ongoing persecution of the Rohingya minority has, in the last two years, reached a level so untenable that tens of thousands have been forced to flee on boats. The current exodus of those seeking asylum is just one manifestation of persecution consistent with genocide," said Professor Green.
According to Professor Green, there is a general reluctance to define an event as genocide until after mass killing begins. However, ISCI research reveals that the historic and current conditions of persecution against the Rohingya minority have developed into genocidal practice.
"Our research is being conducted within a state crime framework in which genocide is understood as a process, building over a period of years, and involving an escalation in the dehumanisation and persecution of the target group. The Rohingya have been subject to stigmatisation, harassment, isolation, and systematic weakening. The Rohingya are faced with only two options: stay and face annihilation, or flee. Those who remain suffer destitution; malnutrition and starvation; severe physical and mental illness; restrictions on movement, education, marriage, childbirth, livelihood, land ownership; and the ever present threat of violence and corruption," said Professor Green.
Details and more information about ISCI's findings, concerning the stigmatisation; harassment; isolation; and systemic weakening of the Rohingya are set out in the notes below. These initial findings are drawn from a report to be published in September 2015. The research is funded by the UK Economic and Social Research Council. The research team includes Professor Penny Green, Dr Thomas MacManus, and Alicia de la Cour Venning.
Media enquiries:
Researchers are available for comment and interview. Please contact:
Mark Byrne
Public Relations Manager (Humanities and Social Sciences)
Queen Mary University of London
T: 020 7882 5378
M: 078 1590 2560
From ISCI's forthcoming research:
Stigmatisation
Emerging from decades of oppression and poverty, Rakhine state is ripe for economic exploitation, particularly in relation to natural resources. Demonising the Rohingya as 'illegal Bengali immigrants', the Myanmar state has manipulated genuine Rakhine grievances and Buddhist monks' insecurities to foster conditions for ongoing persecution and violence for social, political and economic gain. The Myanmar government has been central in stigmatising the Rohingya, allowing hate speech, Islamophobia, the publication of inflammatory newspaper reports, and nationalism to flourish. The entire Rohingya population has recently been further disenfranchised, ahead of elections scheduled for November this year. However, the granting of citizenship cards with voting rights will not be enough to end the genocidal process. Citizenship has, for example, afforded little protection for the Kaman Muslim ethnic minority in Rakhine state.
Harassment
Physical violence resulted in some 200 deaths in Sittwe in 2012, and the threat of violence remains ever present for the Rohingya. Those responsible have enjoyed complete impunity for the violence. Our research reveals that the violence was planned and organised by local authorities supported by local civil society organisations, and political and Buddhist leaders. Continued harassment has contributed to the flight of hundreds of thousands of Rohingya.
Isolation
More than 100,000 Muslims, formerly living in mixed Rakhine and Rohingya communities, have been forced into squalid camps in an overcrowded and isolated detention complex on the outskirts of Sittwe. A further 4,250 Rohingya live a precarious existence in downtown Sittwe's militarised ghetto, Aung Mingalar. Dehumanised and destitute, Sittwe's Rohingya live what can only be described as a 'bare life'. The parallels with 1930s Germany are undeniable.
Systematic weakening
Systematic weakening is the genocidal stage prior to mass annihilation. Physically and mentally weakened, and living in broken communities devoid of social cohesion, the Rohingya have been stripped of agency and human dignity. The expulsion of Médecins Sans Frontières and the regulation of humanitarian aid are state actions designed to systematically weaken the Rohingya community. As the Rakhine National Party spokesperson declared in his interview with us (January 2015), "When the international community give them [Rohingya] a lot of food and a lot of donations, they will grow fat and become stronger, and they will become more violent."
Background and biographies:
Connected Resources