Remembering Another PNGDF Call Out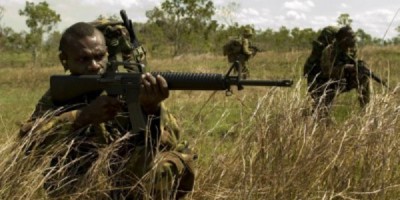 29 March 2012
The International State Crime Initiative's Dr Kristian Lasslett draws on his research into the Bougainville conflict to analyse the government's recent decision to deploy PNGDF troops in the Southern Highlands.
It is almost twenty three years ago to the day, since the PNGDF was sent to Bougainville by Papua New Guinea's National Executive Council. They were deployed to help the RPNGC restore law and order, following an anti-mine uprising.
The PNGDF was, it is to be admitted, reluctant participants. By the late 1980s, soldiers were sick of being shuttled around the country to suppress their own countrymen; after all, it was not what they had signed up for. Nevertheless, they dispatched their duties – alongside the RPNGC's Mobile Squads – with considerable force.
A mining executive at Bougainville Copper Limited – whose copper and gold mine lay at the centre of the crisis – recalls, 'forty, fifty villages, and the crops [were destroyed]. The villages were varying from five or six houses to twenty or thirty houses'. A senior PNGDF officer involved in the law and order operation explains the logic behind these actions,
I think that the aim of the burning down of houses, was for people to come back, and say look sorry I have done wrong, can you people [the national government] help…they [the security forces] were not heavy handed, but they just went out and I think they were doing the right thing by burning down several [sic] houses.
Those displaced were placed in crudely constructed 'care centres', where they were denied contact with the outside world. Indeed, local priests Fathers Tangin and Woerster were badly beaten by the security forces when they attempted to speak with their imprisoned congregation. Landowners were also brutalised. In one sobering incident during April 1989, the wife of a local leader was raped by masked Mobile Squad officers.
Given the heavy weight of the past, one would assume the government's recent decision to call out the PNGDF– following a landowner blockade in the Southern Highlands – was not taken lightly. It would be interesting to know what Prime Minister O'Neil's predecessor, Sir Rabbie Namaliu, thinks of the decision; he was the one unlucky enough to be in the box-seat during 1988-89.
Back then Sir Namaliu was a somewhat reluctant belligerent. Like his Bougainvillean Minister for Provincial Affairs – John Momis – he preferred to do things the Melanesian way, through dialogue, patience and compromise. But Sir Namaliu was under immense pressure from a variety of groups, not least Conzinc Rio Tinto Australia, who had threatened to withdraw all investment from Papua New Guinea, unless he acted 'decisively'.
Of course, we do not know what is behind the O'Neil government's decision to deploy troops in the Southern Highlands. Whatever we are told in the next few days will be at best palatable spin. The real calculations informing this serious move will be kept a carefully guarded secret, as will the conversations that preceded it.
Naturally, speculation will be directed at Esso Highlands (Exxon's PNG subsidiary), whose operations lie at the centre of recent landowner protests. The company's all-to-cool public persona, seems to belie the more chaotic reality on the ground, if recent media-reports are anything to go by.
Indeed, the company appears to be pulling out all stops to ensure production at the massive LNG project begins, as promised, in 2014. This urgency has led to a less than adequate response to the recent Tumbi landslide. Like with the present impasse at Hides 4, Tumbi landowners had blockaded PNG LNG construction work, after dozens of villagers were killed by a massive landslide, which local leaders blamed on a PNG LNG quarry.
According to a number of recent media reports, the National Disaster Committee warned displaced villagers to lift the blockade, or else humanitarian assistance would be denied. Adding muscle to this threat was the presence of the Mobile Squads. Hey presto the blockade was lifted, and according to Catherine Wilson, "villagers watched as workmen bulldozed a road across the landslide on top of their villages and the bodies of those who died". Now displaced families living in tents by the landslide site also watch while trucks rumble over the bodies of their loved ones.
Of course, in defence of Esso Highlands these humanitarian issues are not the domain of resource operators. Nevertheless, resource operators make it their business when they become complicit in the state's activities; say by supplying resources and logistical assistance to government agencies.
According to the PNG LNG's independent monitors, under a memorandum of agreement signed with the RPNGC, Esso Highlands can provide certain types of assistance to the RPNGC including "food, lodging, fuel, vehicles, travel". It is not clear whether this patronage can be extended to the PNGDF.
While Esso Highlands have asked the RPNGC to abide by "voluntary Principles for Security and Human Rights", the fact remains the RPNGC's recent record is a chequered one. Reports by Amnesty International and Human Rights Watch would suggest the Mobile Squads, in particular, have failed to heed the lessons of Bougainville. Amnesty International claims "between April and July 2009, police officers of the Mobile Squad burned down at least 130 buildings in Wuangima [near the Porgera mine], with local community members reporting many more being destroyed". These tactics hark back to the 1970s when the RPNGC first began to quell tribal fighting in the highlands.
Human Rights Watch's findings are even more gruesome. They report:
On March 12, 2004, at around 2:30 or 3:00 in the afternoon, armed mobile squad  officers burst into the Three-Mile Guesthouse in Port Moresby, where a live band was  playing. Present were sex workers and their clients, band members, women selling betel nut, food, and drinks, and others listening to the band. Nearly thirty witnesses testified that the officers rounded up all of the women; hit some of them with sticks, bottles, iron bars, gun butts and rubber hoses; poured cooked food,  beer, and soft drinks on them; and spit red betel nut juice on them. One woman told Human Rights Watch that a policeman hit her with his gun butt on her vagina, "then put  it in my bum."  Another officer, she said, "pissed into a half-full beer and made us  drink a sip." A sixteen-year-old girl told Human Rights Watch that as police officers  rounded her up, one shouted: "We want the youngest ones to have sex in front of all of  us. . . . Have sex right in front of our eyes. We want to see the real action."
If Exxon (via Esso Highlands) extend patronage to the combined security forces as they 'restore order' in the Southern Highlands, they are at real risk of assuming partial responsibility for the latter's conduct –  which if the above examples are anything to go by, could be brutal in the extreme. Indeed, according to the International Commission of Jurists Expert Legal Panel on Corporate Complicity in International Crime:
 …There will usually be a sufficiently close link in law between a company's conduct and gross human rights abuses if the company's conduct has "enabled," "exacerbated," or "facilitated" the abuses.  If a company helps to cause gross human rights abuses in these ways, the company or its officials enter a zone in which they could be held legally liable, under criminal law as an aider or abettor of a crime or as a participant in a common criminal plan, or under the law of civil remedies for intentionally or negligently causing harm to a victim.
Of course, it is early days; perhaps this is all a storm in a tea cup. Lets hope so. But it is important to remember, it only takes one bullet to let the genie out of the bottle, and once blood is spilt the genie is very hard to put back.
* Article originally appeared on LNG Watch Blogspot: http://lngwatchpng.blogspot.co.uk/2012/03/remembering-another-pngdf-call-out.html 
* Photo appearing on homepage: Papua New Guinean soldiers training during Exercise Olgeta Warrior in 2009. Attributed to www.defence.gov.au
Connected Resources