Brazil Genocide Statement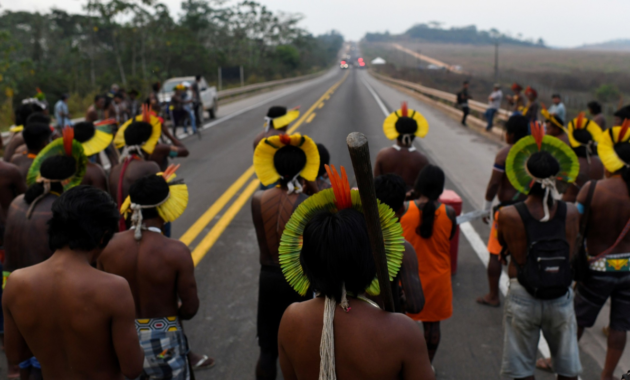 As scholars of genocide and state crime from around the world, we write to express our ongoing alarm about the situation of Brazilian Indigenous and Quilombola communities facing escalating illegal land infiltrations in the context of the COVID-19 pandemic. The failure of the Brazilian Government to protect these communities, and more worryingly, the reckless and actively harmful actions and statements of President Jair Bolsonaro, in our view indicates a genocidal process is underway. Urgent action from the international community and global civil society is required in order to protect these communities.
As Professors Penny Green and Neve Gordon from the International State Crime Initiative (ISCI) at Queen Mary University of London's Law School write, the "acceleration of death precipitated by COVID-19, while wreaking its own havoc, is also exposing the structural crimes of our governments."[1] COVID-19 continues to spread rapidly amongst Brazil's marginalised Indigenous groups. Disproportionate infection and case fatality rates have been widely reported, with some studies documenting rates more than double that of the general population for some regions.[2] This reflects the fact that Indigenous communities have long been isolated and susceptible to externally originating diseases. Furthermore, they lack medical facilities, doctors, medications, the infrastructure to isolate infected individuals, and the specialist equipment needed to treat COVID-19.
But while the deeper structural conditions that make this pandemic especially lethal for Indigenous and Quilombola groups in Brazil are longstanding, since its outbreak, the specific and conscious policy choices implemented by Bolsonaro's administration, alongside escalating intrusions into protected Indigenous territories, have created a more immediate and urgent threat. Since his election, Bolsonaro has eroded healthcare provisions and doctors available to Indigenous groups.[3] Soon after the COVID-19 outbreak he vetoed plans to provide them with emergency aid and safe drinking water.[4] It is also deeply alarming that, as Human Rights Watch has documented, President Bolsonaro has actively sabotaged efforts to contain the virus in Brazil; he has recklessly disseminated misinformation, undermined access to information, and ignored the official guidance of global and domestic health authorities.[5]
It is significant that the pandemic comes at a time when the protected status of Indigenous territories is coming under new attack by the government as it seeks to expand mining, logging, and agriculture in the Amazon.[6] Deforestation and illegal land intrusions by (often armed) miners and loggers have accelerated rapidly under Bolsonaro [7], emboldened by his rhetoric of abolishing protected reserves and opening them up for commercial exploitation. Bolsonaro's explicit attack on Indigenous reserves is unprecedented; he is the first president since the end of the dictatorship to explicitly contravene Article 231 of the 1988 Brazilian Constitution which mandates the responsibility of the state to protect Indigenous rights and territories.
Crucially, land invasions are thought to be a key vector of the spread of the disease to remote and vulnerable Indigenous communities.[8] Thus, Indigenous groups are now facing the simultaneous threats of COVID-19 and the loss and destruction of their lands — lands which constitute integral aspects of their culture, identity and collective existence.
According to the originator of the concept of genocide, Raphael Lemkin, "genocide does not necessarily mean the immediate destruction of a nation," but rather the destruction of the "essential foundations" of group life and the "disintegration" of their culture, institutions, health, dignity and security.[9] In other words, genocide should not simply be reduced to spectacularalised acts of mass killing but can emerge in a variety of forms targeting different aspects of a group's way of life. Ecological destruction is increasingly recognised by genocide scholars as one of these destructive process, especially for Indigenous peoples.
Indigenous groups have also been targeted by the dehumanising rhetoric of senior officials and the President himself. Bolsonaro has compared Indigenous peoples to zoo animals[10] and described them as "cavemen."[11] Scholars of genocide and state crime have long identified the role that denying the humanity of certain groups can play in escalating processes of genocide, warning that when it becomes part of mainstream political discourse it can enable and legitimise violence. As genocide scholar Gregory Stanton writes, "Indoctrination prepares the way for incitement."[12] It is precisely the act of genocidal incitement that a group of Brazilian human rights NGOs and lawyers recently highlighted in their significant submission to the International Criminal Court (ICC).[13]
We reaffirm and echo recent calls by Brazilian Indigenous activists, medical doctors, health workers, and NGOs about the serious urgency and genocidal implications of the current situation. All illegal land intrusions must end, illegal miners and loggers must be expelled, and Indigenous territories must be respected. Transport into affected areas must be restricted to ensure communities can control access and establish protected isolation. Communities must also be provided with effective and sufficient personal protective equipment, medical supplies, doctors and medical staff, and test and trace capacity.
As recent scholarship confirms, genocidal state crime can manifest as a long-term attritional process — undermining the lives, health, ecology, identity, dignity and culture of a community — as well as in outbursts of extreme violence. Given the information, advocacy, and research publicly available on the situation of Indigenous and Quilombola groups, it is inconceivable that the Brazilian government is unaware of the devastating, but clearly foreseeable, consequences of its actions. Furthermore, genocidal intent may be inferred from the general context coupled with the specific behaviour of the Brazilian government — especially the repetition of destructive and discriminatory acts against these communities.[14] It is urgent that threatened groups are listened to and protected and that responsible parties are held accountable.
Executive Board, International State Crime Initiative
Queen Mary University of London, February 2021
SIGNATORIES
| | | | |
| --- | --- | --- | --- |
| Title | First Name | Surname | Affiliation |
| Dr | Louise | Wise | University of Sussex |
| Professor | Damien | Short | University of London |
| Dr | James | Heydon | University of Nottingham |
| Associate Lecturer | Martin | Crook | |
| Professor | Colin | Samson | University of Essex |
| Director Center of Genocide Studies (UNTREF) / Former President IAGS (2013-2015) | Daniel | Feierstein | |
| Prof Dr | Timothy | Williams | Universität der Bundeswehr München, Germany |
| Dr | Thomas | MacManus | ISCI at QMUL |
| Associate Professor | Kirsten | McConnachie | University of East Anglia |
| Dr | Chris | Williams | Independent academic (International studies) |
| Professor Emeritus | Paddy | Hillyard | Queen's University Belfast |
| Dr | Jon | Shute | University of Manchester |
|   | Melanie | McFadyean |   |
| Dr | Nafeez | Ahmed | System Shift Lab |
| Dr | Valeria | Vegh Weis | UBA FUB |
| Professor | Jeremy | Keenan | Queen Mary University London |
| Dr | Henry | Theriault | Worcester State University/ President of International Association of Genocide Scholars |
| Assistant Professor of Genocide and Mass Atrocity Prevention | Kerry | Whigham | Institute for Genocide and Mass Atrocity Prevention, Binghamton University |
| Lecturer | Kerri | Malloy | Humboldt State University |
| Dr | Andrew | Woolford | University of Manitoba |
| Dr | Eyal | Mayroz | Department of Peace and Conflict Studies, University of Sydney |
| PhD Candidate, Sessional Lecturer | Stevan | Bozanich | Simon Fraser University |
| Professor | Samson | Munn | Tufts University and UCLA |
| Dr | Luisa | Morettin | NCI University London |
| Dr | Nelida | Boulgourdjian | Universidad Nacional de Tres de Febrero-ARGENTINA |
| Dr | Rachel | Killean | Queen's University Belfast |
| Dr | Ibrahim | Sadiq | Lecturer at Soran University, Kurdistan Region, Iraq |
| Executive Director | Emily | Sample | Raphaël Lemkin Genocide Prevention Program |
| Professor | Christopher | Mullins | Southern Illinois University |
| Director, Center for Holocaust, Genocide & Human Rights Studies | John | Cox | Univ. of North Carolina at Charlotte |
| Assistant Professor of Political Science | Stacey M. | Mitchell | Georgia State University |
| Co-Director and Professor | Nadia | Rubaii | Institute for Genocide and Mass Atrocity Prevention, Binghamton University, SUNY |
|   | Regina | Paulose | International Criminal Law Attorney |
|   | Fabio | Castel Garcia |   |
| Associate Professor in Socio-Legal Studies | Jennifer | Balint | Criminology, University of Melbourne |
| Dr | Caroline | Bennett | Victoria University of Wellington |
| Dr | Danielle | Boaz |   |
| Dr | Michaela | Moura-Kocoglu | Florida International University |
NOTES
[1] Neve Gordon and Penny Green, "Covid-19 and State Crime" Open Democracy, 21 April 2020: https://www.opendemocracy.net/en/can-europe-make-it/acceleration-death-precipitated-covid-19-exposes-state-crime/?fbclid=IwAR0bglqAlpzFAyL-jWx5yg2dgQFXYoPLwt8qZZi5G_WLADS0Ntjuf7DHVSA.
[2] According to the Articulation of Indigenous Peoples in Brazil (APIB), as of writing, 917 Indigenous individuals have died due to COVID-19 and 44,806 cases have been confirmed; for details and methods, see: https://emergenciaindigena.apiboficial.org/dados_covid19/. See also, Simone Simionatto, Marcelo Barbosa, Silvana Beutinger Marchioro, "COVID-19 in Brazilian indigenous people: a new threat to old problems," Revista da Sociedade Brasileira de Medicina Tropical Vol. 53, 26 August 2020: https://www.scielo.br/scielo.php?pid=S0037-86822020000100915&script=sci_arttext&tlng=en; Victor Santana Santos, Adriano Antunes Souza Araújo, Jarbas Ribeiro de Oliveira, Lucindo José Quintans-Júnior, Paulo Ricardo Martins-Filho, "COVID-19 mortality among Indigenous people in Brazil: a nationwide register-based study," Journal of Public Health, 12 October 2020, pp. 1-2; Martha Fellows, Valéria Paye, Ane Alencar, Mário Nicácio, Isabel Castro, Maria Emília Coelho, Paulo Moutinho, "They Are Not Numbers. They Are Lives! COVID-19 threatens indigenous peoples in the Brazilian Amazon," Amazon Environmental Research Initiative (IPAM) and Coordination of the Indigenous Organizations of the Brazilian Amazon (COIAB), 29 June 2020: https://ipam.org.br/bibliotecas/they-are-not-numbers-they-are-lives-covid-19-threatens-indigenous-peoples-in-the-brazilian-amazon/.
[3] Thais Borges and Sue Branford, "Amazon indigenous groups feel deserted by Brazil's public health service," Mongabay, 5 August 2019: https://news.mongabay.com/2019/08/amazon-indigenous-groups-feel-deserted-by-brazils-public-health-service/.
[4] Lisandra Paraguassu, "Brazil's Bolsonaro vetoes plans to offer COVID-19 support to indigenous people," Reuters, 8 July 2020: https://www.reuters.com/article/us-health-coronavirus-brazil-indigenous-idUSKBN2492XX; "Brazil's President Bolsonaro vetoes COVID-19 aid for Indigenous," Al Jazeera, 8 July 2020: https://www.aljazeera.com/news/2020/7/8/brazils-president-bolsonaro-vetoes-covid-19-aid-for-indigenous.
[5] Human Rights Watch, "Brazil: Bolsonaro Sabotages Anti-COVID-19 Efforts," 10 April 2020: https://www.hrw.org/news/2020/04/10/brazil-bolsonaro-sabotages-anti-covid-19-efforts.
[6] Sue Branford and Mauricio Torres, "Bolsonaro hands over indigenous land demarcation to agricultural industry" Mongabay, 2 January 2019: https://news.mongabay.com/2019/01/bolsonaro-hands-over-indigenous-land-demarcation-to-agriculture-ministry/; Tom Phillips, "'War for survival': Brazil's Amazon tribes despair as land raids surge under Bolsonary," The Guardian, 2 October 2019: https://www.theguardian.com/world/2019/oct/02/war-for-survival-brazils-amazon-tribes-despair-as-land-raids-surge-under-bolsonaro.
[7] Editorial, "Bolsonaro threatens survival of Brazil's Indigenous population," The Lancet, 10 August 2019: https://www.thelancet.com/journals/lancet/article/PIIS0140-6736(19)31801-X/fulltext.
[8] Humberto Laudares, "Deforestation in Brazil is spreading COVID-19 to the Indigenous peoples," Voxeu, 3 November 2020; Dom Phillips, "'Miners out, Covid out': threats to indigenous reserve in Brazil grow," The Guardian, 29 December 2020: https://www.theguardian.com/environment/2020/dec/29/illegal-goldminers-brazil-indigenous-communities-garimpeiros-aoe; Fabio Zuker, "Indigenous land intrusions help drive higher virus death toll in the Amazon, Reuters, 2 September 2020: https://news.trust.org/item/20200814155610-434i2/; "Xawara: Tracing the deadly path of COVID-19 and government neglect in the Yanomami territory," Report by Yanomami and Ye'kwana organisations, available at: https://assets.survivalinternational.org/documents/1984/coy-ingles-r03-2020117.pdf.
[9] Raphael Lemkin, Axis Rule in Occupied Europe: Laws of Occupation, Analysis of Government, Proposals for Redress, (Washington DC: Carnegie Endowment for International Peace, 1944), p. 79.
[10] "Índios em reservas são como animais em zoológicos, diz Bolsonaro," Globo, 30 November 2018: https://g1.globo.com/sp/vale-do-paraiba-regiao/noticia/2018/11/30/indios-em-reservas-sao-como-animais-em-zoologicos-diz-bolsonaro.ghtml.
[11] Dom Phillips, "Bolsonaro declares 'the Amazon is ours' and calls deforestation data 'lies,'" The Guardian, 19 July 2019: https://www.theguardian.com/world/2019/jul/19/jair-bolsonaro-brazil-amazon-rainforest-deforestation.
[12] Gregory Stanton, "The Ten Stages of Genocide," Genocide Watch, 1996: https://www.genocidewatch.com/tenstages.
[13] In December 2020, this submission was formally accepted by the ICC for preliminary assessment. See: https://comissaoarns.org/blog/2020-12-15-tpi-informa-avalia%C3%A7%C3%A3o-preliminar-da-jurisdi%C3%A7%C3%A3o-do-caso-contra-bolsonaro/. For background, see also: "Jair Bolsonaro accused of inciting genocide before the International Criminal Court," OpenDemocracy 29 November 2019: https://www.opendemocracy.net/en/democraciaabierta/jair-bolsonaro-accused-inciting-genocide-international-criminal-court/; Kate Martyr, "Brazilian lawyers implore ICC to launch genocide investigation against Bolsonaro," Deutsche Welle, 29 November 2019: https://www.dw.com/en/brazilian-lawyers-implore-icc-to-launch-genocide-investigation-against-bolsonaro/a-51459855.
[14] Prosecutor v. Tharcisse Muvunyi, Case No. ICTR-00-55A-T, Judgement (TC), ICTR, 11 February 2009, para 29: "By its nature, intent is not always susceptible to direct proof. In the absence of direct evidence, a perpetrator's genocidal intent may be inferred from relevant facts and circumstances that can lead beyond reasonable doubt to the existence of the intent, provided that it is the only reasonable inference that can be made from the totality of the evidence. Genocidal intent may be inferred from certain facts or indicia, including but not limited to: (a) the general context; (b) the perpetration of other culpable acts systematically directed against that same group, whether these acts were committed by the same offender or by others; (c) the scale of atrocities committed; (d) their general nature; (e) their execution in a region or a country; (f) the fact that the victims were deliberately and systematically chosen on account of their membership in a particular group; (g) the exclusion, in this regard, of members of other groups; (h) the political doctrine which gave rise to the acts referred to; (i) the repetition of destructive and discriminatory acts; and (j) the perpetration of acts which violate the very foundation of the group or are considered as such by their perpetrators." Available online: https://unictr.irmct.org/sites/unictr.org/files/case-documents/ictr-00-55/trial-judgements/en/100211.pdf.