'Changing Contours of World Order': Professor Noam Chomsky launches ISCI's new journal, State Crime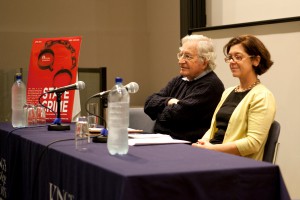 On 10 October 2011 Noam Chomsky launched ISCI's new journal, 
State Crime
 at King's College London
.
 We are grateful to 
Pod Academy 
for providing us with the 
audio podcast of Professor Chomsky's lecture 'Changing Contours of World Order' available here
.
This event was accompanied by a Photo Exhibition on 'Taking Refuge in Tunisia's Spring: African Refugees From Libya' by Yusuf Sayman.
About Noam Chomsky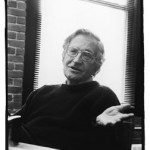 Noam Chomsky is a US political theorist and activist, and Institute Professor of Linguistics at the Massachusetts Institute of Technology (MIT). Besides his work in linguistics, Chomsky is internationally recognized as one of the most critically engaged public intellectuals alive today. Chomsky continues to be an unapologetic critic of both American foreign policy and what he views as its ambitions for geopolitical hegemony and the neoliberal turn of global capitalism, which he identifies in terms of class warfare waged from above against the needs and interests of the great majority.
Over the past five decades, Chomsky has offered a searing critical indictment of US foreign policy and its many military interventions across the globe, arguing that the US continues to support for undemocratic regimes, and to be hostile to popular or democratic movements, thereby undermining its professed claim to be spreading democracy and freedom and support for tendencies aiming toward that end.
About Yusuf Sayman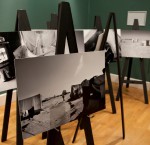 Yusuf Sayman is a New York based photojournalist concentrating on the relationship between the state and the individual. In 2008, he finished the photojournalism and documentary photography program at the International Centre of Photography where he won the John and Annamaria Philips Foundation Scholarship for Photojournalism. Currently he works as a free lance photojournalist, also as an assistant for Antonin Kratochvil. He exhibited in New York, Berlin, Amersfoort and in the PIngyao photography festival in China. His work has been published in the Fader and Fortune magazines, Time.com, and featured by the International State Crime Initiative.
Connected Resources