ISCI Event Photographs: ISCI's 4th Annual Lecture with Ahdaf Soueif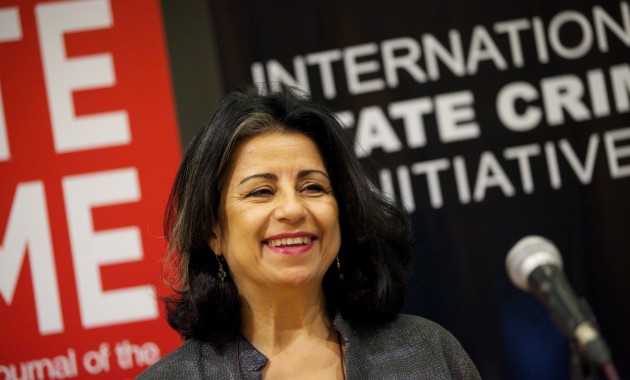 Celebrated Egyptian novelist and political and cultural commentator, Ahdaf Soueif, delivered the 2013 International State Crime Initiative's 4th Annual Lecture at King's College London on Wednesday 20 November 2013 to an enraptured audience.
During her lecture Ahdaf Soueif, addressed what she calls 'the continuity of repression'. Years of state violence, corruption and cronyism led to the popular and revolutionary overthrow of the Mubarak regime in 2011. Soueif powerfully argued that the gains of the revolution have been hijacked by both Mohamed Morsi's Muslim Brotherhood and the current military backed government of General Sisi. Appallingly, the Security State is back in Egypt on its own terms and wholly unaccountable, she said.
Ahdaf took the audience with her to the heart of the revolution and the bravery of the young Egyptians who risked their lives to bring justice, democracy and freedom to their country.
A lively question and answer session followed the lecture.
Professor Penny Green, Director of theInternational State Crime Initiative said:
"This was a profoundly moving account and analysis of the Egyptian revolution. It was a rare opportunity to listen to the authentic and powerful voice of revolutionary struggle. Ahdaf's lived experience of Tahrir Square was utterly compelling and deeply arresting. The violence she reported (more real and confronting in her presentation than in any news report) and the continuity of the very state criminality and terror that the revolution set out to overthrow visibly shocked the audience. We were humbled by her bravery and that of her fellow revolutionaries and deeply inspired by the continuation of the struggle to keep the revolution alive in such terrible times."