ISCI Condemns Demolition Exercise at Paga Hill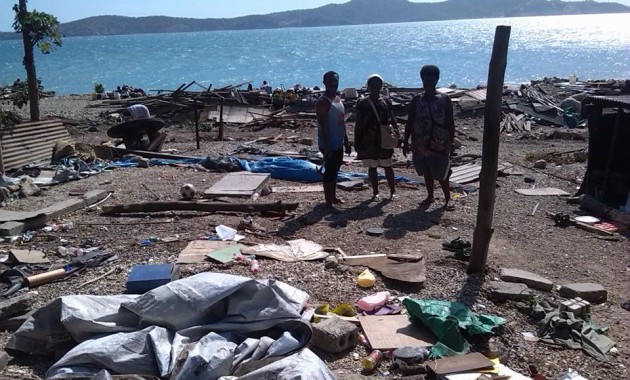 UK Human Rights Body Condemns Demolition Exercise at Paga Hill
British human rights research centre, the International State Crime Initiative, has condemned the demolition exercise at Paga Hill on Tuesday.
According to local residents over twenty homes were destroyed, leaving hundreds homeless, in a demolition exercise that was organised by the National Capital Distinct Commission (NCDC), with the aid of heavily armed police officers.
Also demolished during the exercise was a Seven Day Adventist Church, and historic WWII relics.
'It is extraordinary, these people have endured so much, they have been bashed, terrorised, and intimidated by police, over a period of two years, now this', ISCI's Dr Kristian Lasslett observes.
'This demolition is in clear violation of the UN guidance on development induced evictions and deserves to be condemned as such'.
Dr Lasslett also notes, 'on the 2nd of July Paga Hill residents won their appeal in the Supreme Court, declaring they were exempt from an eviction order obtained by the Paga Hill Development Company. At the moment it is entirely unclear what legal authority the NCDC were acting under and whether it is in contravention of the Supreme Court order – but what we do know is that residents took every step to alert the NCDC and police to the Supreme Court order'.
Dr Lasslett continues, 'at the very minimum the community would require 45 days notice, and a relocation strategy that clearly meets a number of basic human rights standards. And, of course, then there is the issue of the sacred cultural site and historical artefacts, which were destroyed during Tuesday's demolition exercise'.
Dr Lasslett adds, 'it shouldn't be forgotten that the NCDC has conducted this demolition only after the community's leader, Joe Moses, was forced into hiding when NCD police launched a man hunt against him, under what appears to be spurious charges'.
In response to the demolition, the International State Crime Initiative has produced an open letter signed by leading global human rights scholars, and PNG NGOs, calling on the national government to launch an independent inquiry into the Paga Hill episode.
The letter also raises questions over the current luxury real estate project being developed by the Paga Hill Development Company (PHDC). It notes, 'PHDC's CEO, Gudmundur Fridriksson, has run companies censured in four major government investigations in Papua New Guinea, which are catalogued in two Auditor General's Office reports and four Public Accounts Committee reports. Allegations include obtaining illegal consultancy contracts, corruption, the wrongful certifying of government payments, unaccounted funds, and excessive fees, which have evidently netted the companies concerned many millions of Kina'.
According to Dr Lasslett, 'the case of Paga Hill is emblematic of a broader trend, where local communities are facing forced evictions, implemented through violence, by actors whom have often obtained the land through land transactions with a question mark over them'.
24 July 2014
Contact:
Dr Kristian Lasslett
International State Crime Initiative
Skype: kristian.lasslett
Connected Resources