Dr Hazel Cameron Book Release: Britain's Hidden Role in the Rwandan Genocide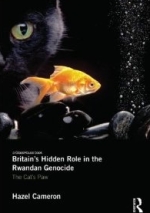 Britain's Hidden Role in the Rwandan Genocide examines the role of the United Kingdom as a global elite bystander to the crime of genocide, and its complicity, in violation of international criminal laws during the Rwandan genocide of 1994. As prevailing accounts confine themselves to the role and actions of the United States and the United Nations, the full picture of Rwanda's genocide has yet to be revealed. Hazel Cameron demonstrates that it is the unravelling of the criminal role and actions of the British that illuminates a more detailed answer to the question of 'why' the genocide in Rwanda occurred. In this book, she provides a systematic and detailed analysis of the policies of the British Government towards civil unrest in Rwanda throughout the 1990s that culminated in genocide. Utilising documentary evidence obtained as a result of Freedom of Information requests to the Foreign and Commonwealth Office, as well as material obtained through extensive interviews – with British government cabinet members, diplomats, Ambassadors to the United Nations Security Council, prisoners in Rwanda convicted of being leaders and organisers of genocide, and victims and survivors of genocide in Rwanda – the author finds that the actions of the British and French governments, both before and during the Rwandan genocide of 1994, were disassociated from human rights norms. It is suggested herein that the decision-making of the Major government during the period of 1990 – 1994 was for the advancement of the interrelated goals of maintaining power status and ensuring economic interests in key areas of Africa.
This title is to be published by Routledge on the 13th of July 2012. For more information, please click here.