Belgian Court victory for Ali Aarrass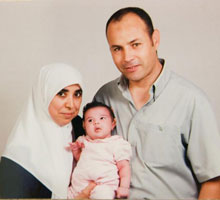 Excellent news for all the Friends of Ali Aarrass: a Brussels court has ordered the Belgian Foreign Affairs Ministry to provide Ali with the consular assistance he is entitled to expect as a Belgian citizen, which has been denied him throughout his ordeal.
The torture he suffered following his illegal extradition from Spain to Morocco was confirmed by the UN Special Rapporteur in a document addressed to the Moroccan ministry of justice, published in May 2013. More recently, the UN Working Group on Arbitrary Detention confirmed that it was on the basis of  confessions obtained by torture that Ali was convicted in November 2011 and sentenced to 15 years' imprisonment (later reduced to 12).
The refusal to provide consular protection led Ali to take the case, through his Belgian lawyers, against the ministry. In argument, the ministry again denied all responsibility for Ali, while accepting that it had been aware of the allegations of torture – the torture was not committed by Belgian officials, or on Belgian territory, so was not Belgium's problem, its lawyers said.From the beginning of his nightmare, Ali sought the help of the Belgian government – far more his government than that of Morocco, since he was educated in Belgium, worked there and did his military service there, while he has never lived in Morocco and has no ties there save the formal tie of citizenship. But the Foreign Affairs Ministry has always refused to provide consular assistance, confirming this position most recently on 29 January 2014 in answer to a parliamentary question. The minister said that 'humanitarian assistance' had been provided. This referred to the occasion in August 2013 when Ali was weeks into a potentially fatal hunger and thirst strike over his treatment in prison, and the minister wrote seeking the Moroccan government's assurance that he was being treated in accordance with human rights norms – an intervention which led to an immediate improvement in his treatment. But even then the minister indicated that this was exceptional and that he would not intervene in Ali's conviction.
In a ground-breaking judgment, delivered on 3 February, the court ordered the ministry to intervene. It ruled that the purpose of consular assistance was the effective protection of citizens' rights abroad, and that the right to intervene could become an obligation if the embassy was aware that the citizen was alleging a breach of fundamental rights. The court affirmed that Article 4 of the Hague Convention of 1930 (which precludes diplomatic protection of a national against a State whose nationality the person also possesses) did not apply, as Morocco had not ratified it, so international law did not prevent intervention on behalf of dual nationals in this case.
Ali, his family and friends look forward to a speedy visit by the Belgian consul in Morocco. Meanwhile, they thank supporters for helping to make the legal case possible.
Funds are still needed to enable the family to continue visiting Ali in Salé II prison and for the legal case in the Moroccan constitutional court against his conviction. You can do an electronic bank transfer to the Friends of Ali Aarrass, account number 65583960; sort code 089299.
Thanks, and all the best –

Frances Webber
London Friends of Ali Aarrass
Connected Resources