Book Launch: Researching Power, Elites and Leadership, by Dr Christopher Williams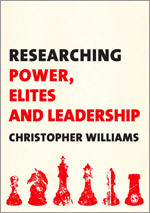 On Thursday 14 June 2012, the International State Crime Initiative, King's College London (KCL), and Sage Publications held the following book launch:
Dr Christopher Williams:  Researching Power, Elites and Leadership
The launch was introduced by chair Penny Green, Professor of Law and Criminology KCL. The author, Christopher Williams, Lecturer at the Centre of International Education and Research at the University of Birmingham, then offered his comments and answered questions.
More information about this text is available here.
A full recording of the event is available here:
Dr Williams refers to the following images in his talk: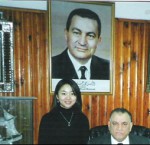 Analysing the 'backdrop' used by powerful people in their offices provides useful insights into how they want, or need, to 'borrow power' to create legitimacy. The power of (then) Egyptian President Hosni Mubarak was evident in the office of the president of Al-Azhar University, Ahmad Omar Hashem, in 2003. But Hashem also displayed Islamic texts prominently. Source: Lee, Yun-joo (2010) Leadership and development in South Korea and Egypt: the significance of cultural shifts. Unpublished PhD thesis, School of Oriental and Asian Studies, University of London.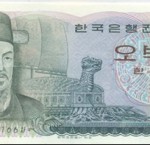 Chung Ju-yung, head of Hyundai, used a Korean banknote showing the technologically advanced 'turtle ship', deployed by Admiral Yi Sun-shin (1545-98), to impress British bankers.
Connected Resources