Fisk & Sayman Launch ISCI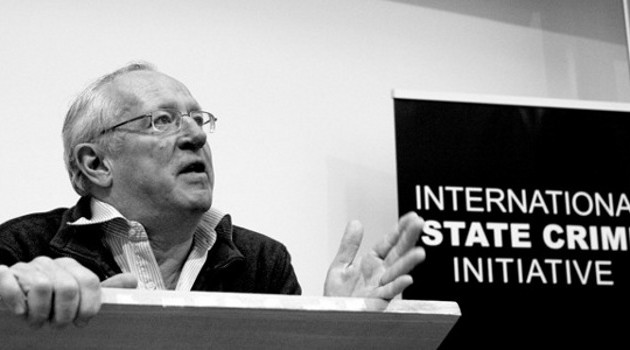 The International State Crime Initiative was launched on 14th June 2010 at King's College London by a lecture by Robert Fisk, Middle East correspondent of The Independent and a photography and video exhibition by Yusuf Sayman, a New York based photographer. Fisk's lecture was entitled 'State of Denial: A Reporter in the Middle East' and covered a wide range of material on the recent and distant history of the Middle East, US and British policy in the region, the role of journalism in uncovering truth and the yearning of all peoples for the justice they are denied.
Following the lecture the packed Anatomy Theatre emptied into the adjacent Anatomy Museum which featured a book stall, Web Workstation, photography exhibition and video display by Yusuf Sayman. Sayman has conducted extensive photojournalism investigating the relationship between the individual and the state and in 2010 was commissioned by ISCI to investigate the plight of Kurds in South-Eastern Turkey and North-Western Iraq. His insightful portrayal of the plight of the Kurdish people moved several viewers to tears. The launch attendees – a mixture of civil society representatives, academics, journalists and researchers – took the opportunity to exchange views on the challenging and inspirational lecture by Fisk and the poignant work of Yusuf Sayman. A full video of Robert Fisk's lecture will be available here in due course. Yusuf Sayman's work for ISCI can be viewed here.
Launch Photos
The Initiative's launch was captured for posterity by the camera of a former King' student, Dolly Clews.
Photos from the night are available here.
IRR: Acclaimed Photographer Barred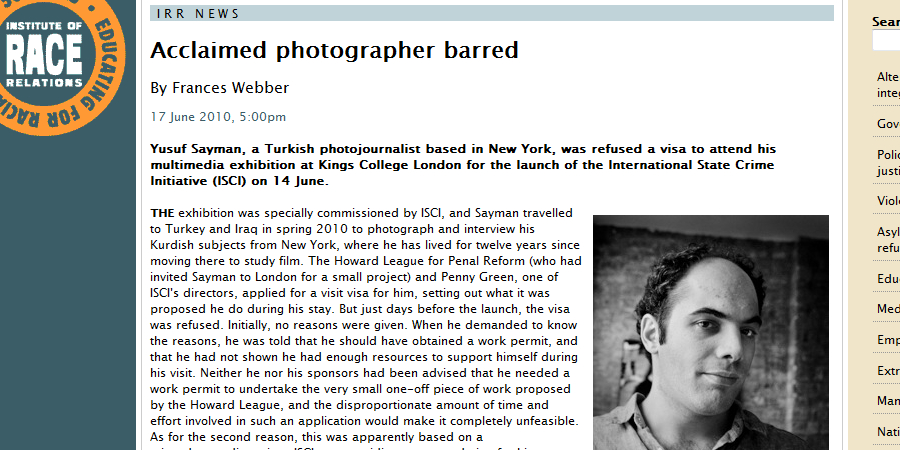 The Institute of Race Relations has published a story by Frances Webber on the UK's refusal to allow Yusuf Sayman to attend the ISCI Launch. The article notes:
[J]ust days before the launch, the visa was refused. Initially, no reasons were given. When he demanded to know the reasons, he was told that he should have obtained a work permit, and that he had not shown he had enough resources to support himself during his visit. Neither he nor his sponsors had been advised that he needed a work permit to undertake the very small one-off piece of work proposed by the Howard League, and the disproportionate amount of time and effort involved in such an application would make it completely unfeasible. As for the second reason, this was apparently based on a misunderstanding, since ISCI was providing accommodation for him.
The full article can be read on the IRR website.