Film Screening and Q&A with John Pilger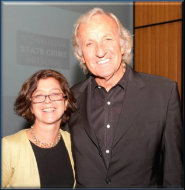 ISCI and The Dickson Poon School of Law are pleased to host a film screening and Q&A with John Pilger.
John Pilger's film, The War you Don't See, will be screened and John will answer questions from the audience after the screening.
A wine reception and exhibition of art and photography will follow, showcasing works by Jeffry Feeger, one of Papua New Guinea's most celebrated young artists, and Philippe Schneider, a French photographer and humanitarian aid worker who has carried out work in Iraq, Lebanon, Palestine, Darfur and Papua New Guinea.
Programme: 
18.30 Welcome address by Professor Penny Green, The Dickson Poon School of Law, King's College London
18.40 Introduction and Film screening, The War You Don't See, followed by Q&A session with John Pilger -Edmond J Safra Lecture Theatre
20.45 Wine Reception & Art and Photography Exhibition with pieces by Jeffry Feeger and Philippe Schneider -Anatomy Museum Room, Somerset House East Wing
Please note that places are limited. Follow this link to register your attendance.
Connected Resources