Book Launch: Researching Power, Elites and Leadership, by Dr Christopher Williams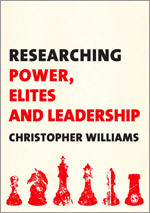 The International State Crime Initiative, King's College London (KCL), and Sage Publications would like to invite you, or a representative, and a guest to the following book launch:
Dr Christopher Williams:  Researching Power, Elites and Leadership
Thursday 14 June 2012, 6.00pm – 8.00pm
Moot Court Room, Somerset House East Wing (Dickson Poon School of Law), King's College London, WC2R 2LS
The launch will be introduced by chair Penny Green, Professor of Law and Criminology at King's College London. The author, Christopher Williams, Lecturer at the Centre of International Education and Research at the University of Birmingham, will then offer his comments after which there will be an opportunity for questions and answers. Light refreshments will follow.
Copies of the book will be available for purchase on the night. We will also have copies of the State Crime Journal and "State Crime: Governments, Violence and Corruption" by Tony Ward and Penny Green available for purchase.
Please be advised that these items are purchasable by cash only.
Kindly RSVP to: francesca.hands@kcl.ac.uk