BOOK LAUNCH: Invite from Jeremy Corbyn MP for 'State Crime on the Margins of Empire' by Kristian Lasslett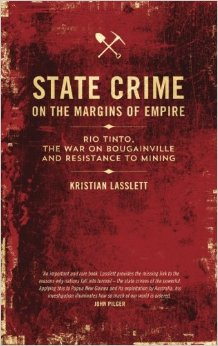 The International State Crime Initiative (ISCI) is delighted to invite you to a book launch hosted by Jeremy Corbyn MP on Tuesday 3rd February 2015 at 18.00 at The Wilson Room, Portcullis House, the Embankment, SW1A (nearest tube station: Westminster).
The book, State Crime on the Margins of Empire: Rio Tinto, the War on Bougainville and Resistance to Mining by Dr Kristian Lasslett (ISCI Executive Board Member and Lecturer of Criminology, University of Ulster), is the first in ISCI's newly launched 'State Crime Book Series' published by Pluto Press.
Spaces are limited and booking is essential. Places can be reserved using the following link: https://www.eventbrite.co.uk/e/invite-from-jeremy-corbyn-mp-for-book-launch-state-crime-on-the-margins-of-empire-tickets-15423495089
Overview
In his book Kristian investigates a largely unknown war that devastated the South Pacific island of Bougainville during the 1990s. At its epicentre was the mining giant, Rio Tinto, who conspired – through its subsidiary – with the Papua New Guinea and Australian governments to violently suppress indigenous landowner resistance against one of the world's largest copper mines. Employing unparalleled access to senior state-corporate officials and internal records, Kristian uncovers and theorises this conspiracy from the inside, including enduring efforts to deny survivors justice.
Connected Resources