Annual Lecture – Occupation of the Senses: The Aesthetic of State Terror in the Palestinian City Space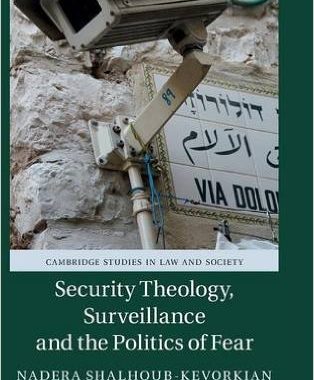 Annual Lecture of the International State Crime Initiative (ISCI):
"Occupation of the Senses: The Aesthetic of State Terror in the Palestinian City Space" with Professor Nadera Shalhoub-Kevorkian. 
Colonial and settler colonial dispossession is performed through various forms of violence, justified by cultural, historical, religious and national imperatives. In this talk, I define one of these forms of violence as the occupation of the senses, referring to the sensory technologies that manage bodies, language, sight, time and space in the colony. This paper analyses the parades, marches and festivals performed in the Palestinian city space of occupied East Jerusalem; shares the slogans, chants and graffiti used by Israeli civil, religious and nationalist entities; and explores what is lived, seen, heard, felt and smelled by the colonized to uncover the political violence implicated in the occupation of the senses.
The event will be followed by a drinks reception for attendees.
Speaker Biography
Prof. Nadera Shalhoub-Kevorkian is the Lawrence D. Biele Chair in Law at the Faculty of Law-Institute of Criminology and the School of Social Work and Public Welfare at the Hebrew University of Jerusalem. She is also ISCI's Distinguished Visiting Fellow
She is a longtime anti-violence, native Palestinian feminist activist and the director of the Gender Studies Program at Mada al-Carmel, the Arab Center for Applied Social Research in Haifa.  Her research focuses on law, society and crimes of abuse of power.  She studies the crime of femicide and other forms of gendered violence, crimes of abuse of power in settler colonial contexts, surveillance, securitization and social control, and trauma and recovery in militarized and colonized zones.  Shalhoub-Kevorkian's previous book is entitled: "Militarization and Violence Against Women in Conflict Zones in the Middle East: The Palestinian Case Study" published by Cambridge University Press, 2010.  Her newly published book is entitled:  "Security Theology, Surveillance and the Politics of Fear", published by Cambridge University Press.
She has published articles in multi-disciplinary fields including British Journal of Criminology, International Review of Victimology, Feminism and Psychology, Middle East Law and Governance, International Journal of Lifelong Education, American Behavioral Scientist Journal, Social Service Review, Violence Against Women, Journal of Feminist Family Therapy: An International Forum, Social Identities, Social Science and Medicine, Signs, Law & Society Review, and more.  As a resident of the old city of Jerusalem, Shalhoub-Kevorkian is a prominent local activist.  She engages in direct actions and critical dialogue to end the inscription of power over Palestinian children's lives, spaces of death, and women's birthing bodies and lives.
Sign up here: https://www.eventbrite.co.uk/e/isci-annual-lecture-tickets-31351027768