Extrajudicial Executions of Kurdish Back Carriers (Kolbaran) by Iranian Security Forces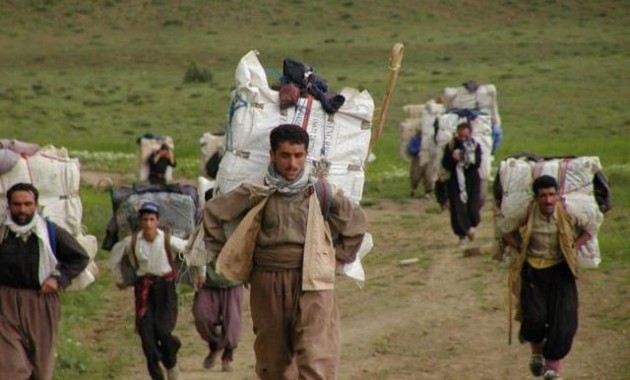 Extrajudicial Executions of Kurdish Back Carriers (Kolbaran) by Iranian Security Forces
Written By: Noory Fakhry
Theme Crime: Extrajudicial, Summary or Arbitrary Executions, Crimes against Humanity
Places: Iranian Kurdistan
Introduction
Every year, dozens of unarmed Kurdish border couriers (Kulbar in Kurdish language) who engage in smuggling small amounts of goods to Iran to earn their livelihood are killed or injured by Iranian security forces near the western borders of Iran in the mainly Kurdish provinces of Kurdistan, West Azarbayjan and Kermanshah. While Iranian law strictly prohibits smuggling goods, Iranian armed forces consistently, and in violation of international law, use lethal firearms to stop or arrest Kurdish border couriers. Ahmed Shaheed, Human Rights Council Special Rapporteur on Iran stated in his 2013 report to the United Nations General Assembly that "Indiscriminate killings of kulbaran (border couriers), in violation of the domestic laws and international obligations of the Islamic Republic of Iran, continue to be reported. Human rights organizations report that at least 70 border couriers were killed and 68 wounded by government forces between March 2011 and April 2012. These reportedly unarmed couriers from the Kurdish-dominated provinces appear to engage in smuggling such items as tea and tobacco because of inadequate employment opportunities."[1]
But this issue is largely remained unnoticed and under-reported by human rights organizations and UN human rights bodies and needs much more consideration.
In this Article I examine the legality of the use of firearms by Iranian security forces against Kurdish border couriers according to domestic and International human rights law.
1- Discrimination and Poverty in Kurdistan
Kurdish-dominated provinces of Iran suffer from deep economic and cultural discrimination by the Iranian government. The unemployment rate is more than double that of other provinces of Iran and the government avoids investment in Iranian Kurdistan. It also discourages or prevents private investors from investing in the region. Thus the majority of the Kurdish population is left with two options: to leave Kurdistan and work in other parts of Iran, usually as an itinerant worker, or to engage in the dangerous work if a border courier to earn a basic livelihood. While each year hundreds of Kurds migrate to big cities, thousands of Kurds, especially in the border areas with Iraq and Turkey, engage in smuggling goods.[2] Those who carry goods on their backs are known as Kulbaran in Kurdish (back couriers). Those who carry their goods by horses or cars they are called Kasebkaran (tradesmen) in the Kurdish language. However back carriers and tradesmen are systematically targeted by Iranian security forces.
Iranian laws prohibit smuggling goods and Iranian officials have repeatedly warned that they will severely fight and confront with what they have called "smugglers" in Kurdistan.
2- Iran's law about Using Firearms by Security Forces and International Law
The Law of Using Arms by Armed Forces in Necessary Situations[3] allows use of lethal firearms by armed forces in numerous situations. For instance, Article 2 (9) provides: "Armed forces are allowed to use firearms to prevent and confront individuals who intend to enter or exit borders illegally and do not pay attention to the warnings of security forces."
Article 6 of the Using Arms by Armed Forces also states:
"shooting towards cars by security forces in order to stop them is allowed, when: a car according to credible circumstances and reasons and/or credible information is stolen or it is carrying fugitives or smuggled goods or drugs and/or illegally carrying weapons.
Note 1: The security forces require that in the checkpoints install and put warning tools such as barriers, signs, revolving laps.
Note 2: The security forces are allowed to fire at cars when in addition to compliance to Note 1, with a loud and clear voice shout "Stop" to the driver of the car and the driver would not pay attention to the warnings!"
As the Special Rapporteur points out, "These rules attempt to codify the principle of necessity, but completely ignore the principle of proportionality which constitute the twin pillars of international law in this area." [4]
The law of Iran regarding use of lethal force is clearly incompatible with article 3 of the Code of Conduct for Law Enforcement Officials and principle 9 of the Basic Principles on the Use of Force and Firearms by Law Enforcement Officials, both of which have become customary or conventional international law and reflect binding international law.[5]
According to Principle 9 of the Basic Principles:
Law enforcement officials shall not use firearms against persons except in self-defence or defence of others against the imminent threat of death or serious injury, to prevent the perpetration of a particularly serious crime involving grave threat to life, to arrest a person presenting such a danger and resisting their authority, or to prevent his or her escape, and only when less extreme means are insufficient to achieve these objectives. In any event, intentional lethal use of firearms may only be made when strictly unavoidable in order to protect life.
But using lethal force by security forces to prevent or confront individuals that enter or exit illegally from borders (as a crime), according to article 2(9) of Iranian law, is clearly not proportional.
Principle 9 of the Basic Principle only allows using firearms to prevent the perpetration of a particularly serious crime involving grave threat to life, to arrest a person presenting such a danger and resisting their authority, or to prevent his or her escape as a last resort.
To enter or exit illegally through borders is neither a particularly serious crime nor does it pose a grave threat to life. Nor is a driver carrying smuggled goods committing  such a crime as to justify using lethal force by Iranian armed forces to stop it.  "The principle of necessity will never justify the use of disproportionate force. If all proportionate measures have proved insufficient to apprehend a suspect, he or she must be permitted to escape."[6]
It is the state' responsibility to protect the right to life of its citizens and the Iranian law violates this right.
The security forces in Kurdistan even violate Iranian laws related to Using firearms. The Special Rapporteur on the situation of human rights in the Islamic Republic of Iran states in his report: "An individual interviewed for the present report mentioned that government forces often begin shooting immediately after issuing calls for individuals to halt movement.[7] Other reports also indicate that government troops often ambush Kurdish border couriers (Kulbaran) and cars suspected carrying goods then immediately, without any warning begin shooting them[8] in violation of Iranian law to use lethal force only at checkpoints as a last resort, after ample warning and non-lethal attempts to apprehend unauthorized migrants have been explored.[9]
Adding to their brutality, Iranian troops frequently massacre back carriers´ (Kulbaran) horses[10] and steal their goods and money.[11]
Iranian border guards and security forces in Kurdish-dominated provinces enjoy total impunity for extrajudicial executions of Kurdish civilians and they are protected by officials and the law. Few have been prosecuted and almost no one has been convicted. In addition, while the lives of the families of victims have been entirely dependent on the income of the Kulbaran or tradesmen, the Iranian government has rarely offered any remedy to their children and dependents. In a cycle of poverty, these children abandon school at early age and work at this dangerous job.
In one case where I was attorney for the family of a slain Kurdish tradesman in a court-martial, the military prosecutor claimed, without any evidence, that the perpetrator (a military officer) several months after the murder was killed in a car accident and the judge in complicity with the prosecutor accepted this claim but exceptionally decided that the government should pay to the family a compensation amounting to only one-third of the blood money that would normally be due.[12] This money was paid with several years delay and in several installments.
In some cases the local media reported that Iranian security forces even demanded money including for the costs of bullets that were fired at the victim before delivering his/her corpse to the family.[13]
In Iran an independent judiciary does not exist, security forces abuse their power and government largely failed to investigate abuses by their own agents.
It is the
obligation of all states to conduct exhaustive and impartial investigations into all suspected case of extrajudicial, summary or arbitrary executions, to identify and to bring to justice those responsible, while ensuring the right of every person to a fair and public hearing by a competent and impartial tribunal to grant adequate compensation within a reasonable time to the victims or their families and to adopt all necessary measures, including legal and judicial measure, in order to bring an end to impunity and prevent the recurrence of such executions, as states in the Principles on the effective Prevention and Investigation of Extra-legal, Arbitrary and Summary Executions.[14]
The extrajudicial executions of Kurdish civilians by Iranian armed forces is violation of inherent right to life as mentioned in article 6 (1) International Covenant on Civil and Political Rights and "the primary purpose of the recognition of the right to life is to protect people from being killed by the State, the entity that claims and, to a large extent, exercises monopoly on the use of force."[15]
3- Extrajudicial Executions of Kulbaran are Crimes against Humanity
The extrajudicial executions of Kurdish civilians in the border areas of Iranian Kurdistan are systematic. The UN Special Rapporteur states that "that Iranian border guards indiscriminately shoot at these individuals, thereby killing and wounding dozens of kulbari annually, as well as their horses."[16]
The latest statistics announced that from March 2013 until March 2013 at least 192 Kulbars and Kurdish civilians were killed or injured by Iranian troops in Kurdish provinces.[17] Many other cases have remained unreported because of restrictions imposed on the media in Iran and the remote locations of the killings.
Extrajudicial and arbitrary executions are crimes against humanity under article 7 (a) of the Rome Statute of the International Criminal Court if they are committed as part of a widespread or systematic attack directed any civilian population with knowledge of the attack.
Indeed as I mentioned above the killings of innocent Kurdish civilians in the border areas are being carried out according to the policy of the government; they are instigated or directed by the Iranian government[18] and they are thoroughly organized and follow a regular pattern on the basis of a common policy involving substantial public or private resources.[19] Government officials have repeatedly warned Kurdish civilians not to engage in what they have called "smuggling" otherwise they will decisively and severely confront them.
Iranian Kurdistan suffer from deep economic discrimination and high unemployment, the government enacted laws that severely prohibit smuggling, laws that particularly targets Kurds as they live in the border region with Iraq and Turkey and with no other option to earn their basic livelihood. Its security forces are granted great scope by law to use lethal force in these regions. The government also have established numerous organizations and special armed forces to prevent Kurdish civilians from transferring goods. The Iranian parliament even recently enacted a new law to protect and encourage armed forces to aggressively suppress Kurdish Kulbaran.[20]
In some areas such as in the borders of Mariwan in Kurdistan province, security forces have created a 1000 meter buffer zone and installed signs that show a "Prohibited Areas" and warned locals that they will shoot anyone entering these areas. In some regions, security forces compelled local residents to sign a disclaimer according to which Iranian security forces in the situation of shooting Kulbaran would not bear any responsibility and it is the Kulbaran thatshould bear all the financial and lethal consequences of these incidents.[21]
Discriminations, unemployment, and the existence of laws that violate of right to work and right to life, together with the lack of investigation into the killings and total impunity of perpetrators, clearly demonstrate the systematic character of the murder of innocent Kurdish civilians by Iranian government, which therefore amount to crimes against humanity.
[1] Ahmed Shaheed, Special Rapporteur on the situation of human rights in the Islamic Republic of Iran, Human Rights Council, U.N. Doc. A/68/53, (4 October 2013), page 15
[2] See https://www.youtube.com/watch?v=BshDcBFEwDA
[3] See http://rc.majlis.ir/fa/law/show/92500 and https://www.youtube.com/watch?v=V6mPaCe4EJ4
[4] Philip Alston, Special Rapporteur on Extrajudicial, summary or arbitrary executions, Human Rights Council, U.N. Doc. A/61/311, (5 September 2006) page 12
[5] Ibid, p. 13
[6] Ibid, p. 16
[7] Ahmed Shaheed, op. cit., p. 15
[8]See https://www.youtube.com/watch?v=_AgBUERcMYA
[9] See http://www.kurdistanmedia.com/farsi/index.php?besh=dreje&id=14752 and http://www.newroztv.net/persian/?p=3598, http://www.kurdpa.net/farsi/index.php?cat=idame&id=13589
[10]See https://www.youtube.com/watch?v=T1UAvT5xZLE
[11] See http://www.newroztv.net/persian/?p=2034 and http://www.asoyroj.com/farsi/detail.aspx?=hewal&jmara=4981&Jor=1
[12] "The military prosecutor here is an official in the Iranian court-martial who is responsible for presenting the case (in a criminal trial) against members of the armed forces subject to military law accused of breaking the law." See http://rc.majlis.ir/fa/law/show/91072
[13] See http://www.peykeiran.com/Content.aspx?ID=30557 and http://www.kurdpa.net/farsi/index.php?cat=idame&id=14104
[14] Mandate of the Special Rapporteur on extrajudicial, summary or arbitrary executions, Human Rights Council, U.N. Doc. A/HRC/26/L.23 (20 June 2014) Page 2
[15]Christof Heyns, Special Rapporteur on extrajudicial, summary or arbitrary executions, Human Rights Council, U.N. Doc. A/HRC/17/28 (23 May 2011) page 9
[16]Ahmed Shaheed, Special Rapporteur on the situation of human rights in the Islamic Republic of Iran, Human Rights Council, U.N. Doc. A/HRC/19/66 (6 March 2012) page 19
[17] see http://www.kurdpa.net/index.php?besh=dreje&id=14588
[18] See http://khabarfarsi.com/ext/2291372
[19]Darryl Robinson (Jan.,1999), Defining "Crimes Against Humanity" at the Rome Conference, The American Journal of International Law, Vol. 93, No. 1 Stable URL: http://www.jstor.org/stable/2997955, page 50
[20] See http://khabarfarsi.com/ext/1976460
[21] See http://www.kurdpa.net/farsi/index.php?cat=idame&id=8005
Connected Resources