France / Emma Ruth Holland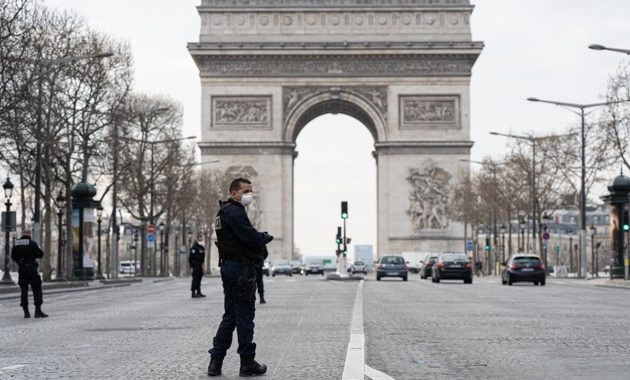 In measures taken to protect the health and economic functioning of society against the spread of COVID-19, the French government have declared a public health emergency and placed limitations on individual rights and freedoms. A national lockdown and closure of borders limited freedom of movement and assembly, while school closures are having consequences for rights to education. In the context of the severe outbreak seen in France, with over 24,000 deaths attributed to the virus these measures appear necessary and proportional.
There have been concerns raised however over the provisions for migrants, prisoners and disproportionate penalties for failure to comply. The government is taking extensive measures to provide social security and support the economy, and it should continue efforts to secure equipment needed to provide safe and healthy working conditions for those citizens working.
Background
France is a high-income country with a GDP  per capita of $45,342, and a population of approximately 67 million (2018).
The French healthcare system provides universal healthcare coverage, through a combination of public and private financing and provision (6). France's total expenditure on health is 11.2% as a percentage of GDP, which equates to $4,965 per capita. The healthcare costs of the entire population are covered to a degree by a statutory health insurance (SHI) model, funded through income-based contributions from employers and  taxation, with individual co-payments required when accessing services. Per 1,000  people, France has 6 hospital beds, 3.2 practising physicians, and 9.7 nurses and midwives.
In the context of COVID-19, and the potential for severe respiratory symptoms, it is important to consider the number of ventilators with which the country is equipped. Prior to the outbreak of the pandemic, France had 5,000 ventilators which equates to 0.074 ventilators per 1,000 people.
Civil and Political Rights 
On the 16th March President Macron announced measures restricting freedom of movement, freedom of assembly and rights to seek asylum. It was announced the EU's external borders were to shut for 30 days, with severe restrictions on travel across the Schengen Area's internal borders.
A 15 day 'lockdown' was ordered to start on the 17th March to last until 31st March. Under the conditions of this lockdown individuals must stay at home excepting: travel to work if essential, to buy essential items, to seek medical care, for "imperative family reasons" such as looking after the vulnerable, or to exercise alone briefly.  Anyone leaving their homes must have a signed form (attestation) detailing the reason for their trip. 100,000 officers were deployed to enforce the lockdown and check attestations, with fines issued for failure to produce.
On the 22th March French parliament adopted Law 2020-290 providing for a declaration of a public health emergency to give the government legal powers to restrict movement and rule by decree to requisition certain goods and services over a period of 2 months, which was  enacted by President Macron on 23rd March.
The penalties for failure to comply were increased, with an initial fine of €135, increasing to €1,500 for a repeat offence within 15 days, while 4 violations in 30 days was made punishable by a €3,700 fine and a maximum of 6 months in prison.
On Friday March 27th the lockdown was extended to April 15th, and this was further extended on 13th April to May 11th. Within France regional governments have been placing curfews on local areas, further restricting freedom of movement.
In order to judge the necessity and proportionality of these restrictions, it is important to place them in the context of the scale of the COVID-19 outbreak in France. Figure 1 graphs the cumulative number of confirmed COVID-19 cases and deaths in France as reported by the European Centre for Disease Prevention and Control. Superimposed onto the graph are the dates at which key actions restricting civil and political rights took place.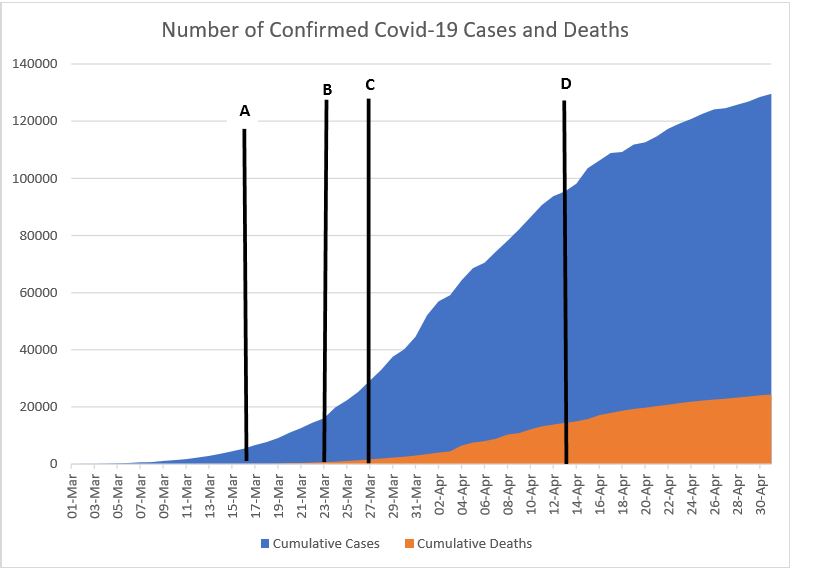 Source: European Centre for Disease Prevention and Control
Clearly the rate of the spread of COVID-19 in France has been significant, with 24,376 deaths attributed to the virus as of May 1st. This provides strong justification for the necessity of the measures taken in order to protect the health of society. However, there are concerns over the proportionality of these measures.
Numerous senators raised concerns the period of 2 months with which the government could rule by decree was too long, and the potential fines were too great. Of note also are the local curfews imposed by regional authorities, some of which have faced legal challenges and been deemed unjustified.
Significant criticism has also been attracted by the lack of nationwide action to address the issue of migrants in immigration centres. As French borders are closed, imminent deportation of the approximately 340 migrants held in detention centres is no longer possible, with the crowded conditions posing increased health risks.
Economic, Social and Cultural Rights
The human right to the highest attainable standard of physical and mental health is stated in Article 12 of the ICESCR, with specific mention to the necessity of action in the 'prevention, treatment and control of epidemic, endemic, occupational and other diseases.' Government efforts to realise this right have included providing information on infection control and hygiene measures, controlling prices of products such as alcoholic hand gels, and making efforts to transfer patients from areas with overwhelmed health services to other areas. Furthermore, conditions of lockdown allowed for trips to continued access to health services and pharmacies.
Special efforts must be taken to realise this right for those most vulnerable to the spread of COVID-19, including prisoners and migrants. France has taken action to reduce crowding in prisons, reducing the prison population by 10,000 in the month since the lockdown began.
Prison occupancy still exceeds 100%, with some prisons operating at over 130% capacity with a lack of sanitation and social distancing measures.
Nonetheless, occupancy still exceeds 100%, with some prisons operating at over 130% capacity with a lack of sanitation and social distancing measures. Human Rights Watch has also criticised treatment of child migrants, with children waiting on delayed age assessments lacking provision of shelter and living in precarious and overcrowded conditions increasing risk of exposure to the virus.
Large numbers of migrants living in camps in France are also facing increasingly inadequate and unsanitary living conditions due to reductions in NGO activity as a result of the pandemic.
Concerns have been raised regarding the working conditions of essential workers in France. Despite requisition measures, the government has been criticised for lack of sufficient provision of personal protective equipment.
The national lockdown and closure of many workplaces has left many businesses and individuals without income. On March 16th the government announced a 300-billion-euro package of loans to help support struggling businesses. Further support measures include the suspension of rent and utility bills owed by small companies and deferral or cancellation of tax payments and payroll charges due.
Under a partial activity scheme, the government will reimburse businesses suffering reductions in their activity to compensate their employees with 70% of their previous gross earnings. The French public investment bank, Bpi France, has been mobilized to guarantee lines of credit, while a solidarity fund of €2 billion provides for severely affected small businesses and self-employed professionals.
Schools have been closed and ,while the Ministry of Education has provided online information for students and teachers to promote educational continuity, there are concerns children without internet access and facing other socio-economic barrier will be unfairly disadvantaged with worsening of inequality in educational attainment.
Emma Ruth Holland is a medical student studying an intercalated degree in Global Public Health at Barts and the London School of Medicine and Dentistry.