Looking beyond Panguna – A post-2020 strategy for Bougainville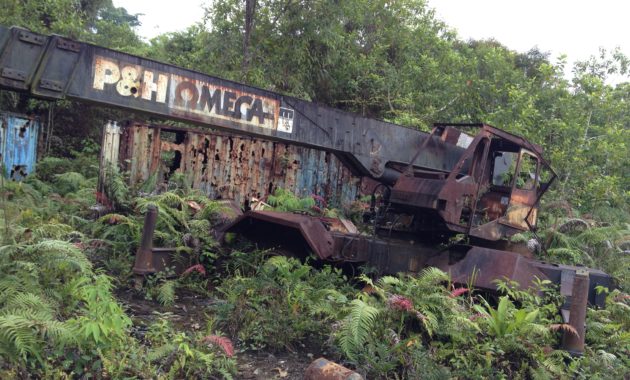 By Dr Kristian Lasslett*| 19 April 2017
Bougainville Copper Limited is back in the headlines.
The proposed reopening of Panguna has been framed by senior politicians as the only viable solution to Bougainville's political and economic challenges. 
President Momis' response to a question submitted by Radio New Zealand International on the reopening of Panguna, is indicative of ABG policy in this respect. Momis replied:
We have a timeline to meet. And unfortunately agriculture, fisheries, and other things just won't enable us to meet those timelines. Mining is the only thing that will generate so much revenue to assist the government to provide services and help to develop capacity to handle the new public service powers.
In an earlier interview with SBS, Momis argued 'the vast majority of Bougainvilleans, I would say over 97%, want the [Panguna] mine to be open'.
Bougainville's new Vice President – formerly Director of the Office of Panguna Negotiations –  is reported to have adopted a similar stance in a recent statement to the press:
Mr Masono said that the region would have fiscal self-reliance and also the majority of Bougainvilleans would enjoy a better life again when the mine re-opens. He said there was opposition to the mine re-opening but they were a minority. Mr Masono said that the mine would bring quick development and it still had a large known reserve yet to be mined.
The Vice President is also quoted as saying 'we need Panguna to finance independence for Bougainville'.
Nevertheless, an examination of the often difficult to access reporting on potential development strategies for Bougainville, reveals something of a broad consensus. The island needs diversified industries, with a strong rump of attention devoted to agriculture. With a young and able workforce, this make sense.
One only needs to face westwards from Bougainville, to find a cautionary example of what happens when agriculture is ignored, and all the policy eggs are placed in the extractive basket.
Also, agriculture is one tract of development that can leave industry in local hands, lessening the risk of exploitative relationships, or capital flight overseas.
Of course, agriculture is not the only option. Fisheries and tourism, have also been pointed to as fertile future tracts for potential economic development.
Another notable point of consensus is Panguna's high risk status, which has dim prospect of producing considerable returns in the foreseeable future. Of course, few development specialists dismiss mining entirely – but its role is primarily one of a potential revenue generator at a later point of time, once central economic and governance pillars have been erected.
What is also interesting to observe is that the available survey data – see Table 1 below –  suggests many Bougainvilleans agree with the recommendations of development specialists; they see in the rush towards large-scale mining much false hope, and believe a stable, prosperous future will be secured through a diversified economic strategy built through participatory policy design.
 To cite one example. In 2013 a peace and development analysis (PDA) was conducted under the leadership of the UNDP. It is described as a 'collaborative effort of the Autonomous Bougainville Government (ABG), the UN in Papua New Guinea through the UN Development Programme (UNDP) and its office in Bougainville, Interpeace'.
The joint-project  involved interviews with 1100 people across Bougainville.
A discussion paper shared the study's preliminary findings. Published in 2014, it states: 
There is a broad popular perception that the ABG in its focus on the Panguna mine has largely neglected other sectors, such as tourism or alluvial mining, but especially agriculture which provides the livelihood for most Bougainvilleans. Not surprisingly, there is considerable interest among Bougainvilleans for the smaller scale, slower development path. 
It adds, 'as the Panguna mine shows, a big stone in a small pond has big ripple effects everywhere'.
The final UNDP/ABG report published the same year echoed these conclusions, with greater depth. The report notes:
The far more important finding however is that Bougainvilleans are not in a position to develop an informed opinion and make an informed choice [over Panguna's reopening] … most Bougainvilleans have no access to detailed information from a source they trust, such as how long it would take and how much it would cost for the mine to be re-opened, what the projections are of the revenue it is likely to generate (reportedly such projection are available, but not widely known or easily accessible), what share of that revenue can be realistically expected to stay in Bougainville, and how that would be shared. Nor do they have enough trustworthy information about what the environmental impacts might be with today's technology and knowledge.
The report adds, similar to the earlier draft: 'There is certainly a strong strand of opinion among Bougainvilleans in favor of the "small is beautiful" vision'.
Late in 2014 – six months after the UNDP/ABG findings were to hand – Jubilee Australia** published a report based on interviews and focus groups conducted in the mine lease area with 82 participants. It draws conclusions sympathetic to the UNDP/ABG study.
Although, perhaps not surprisingly, given that the Jubilee report focuses on the mine lease area, it documented much higher levels of opposition to Panguna's reopening, and a strong inclination towards justice and healing first, and a focusing of energies on sustainable forms of development.
President Momis rejected Jubilee's report. He told the ABC, 'the overwhelming response [on Bougainville] is support for reopening the mine'. Momis argued, this was especially the case in the mine impacted areas: 'In the public consultations with Panguna mine lease landowners, many stated explicitly their view that Bougainville's best hope of achieving the kind of fiscal self-reliance needed for either real autonomy or independence lies in mining'.
Echoing the President's line, ANU academic Joanne Wallis penned a sharp critique of Jubilee Australia, claiming the ABG had 'conducted a long and inclusive consultation process with the affected landowners and wider society to establish whether they want the mine to reopen … Reports from these consultations indicate that the majority of Bougainvilleans do want to [sic] mine to reopen … Jubilee Australia has uncritically accepted the anti-mining voices of a small number of interview respondents'.
The available data, however, suggests a much higher level of popular scepticism towards Panguna's reopening, and the benefits its might accrue locally, than is conceded by Wallis or President Momis.
Indeed, the  views coming from the interview data (see Table 1 below) collected by the UNDP, ABG and Jubilee Australia exhibit a strong strain of realism, that contrasts with the, at times, millenarian prophesy  being ascribed to the Panguna project by select policy makers and commentators.
Certainly, since 2010 policy statements issued by the ABG have suggested that the reopening of mine, will produce ample revenues for independent statehood, while providing the wealth needed to compensate victims of the mine, and repair damage to the ecosystem.
At times the promise of Panguna has reached fever pitch. A document produced by one 'landowner association', heavily relied upon by the ABG to rally support for its reopening objective, claims:
'It is proposed [the mine will] pay a royalty of 3.5% of sales to landowners … If we assume there are 5000 adult descendants of the original 510 titleholders, this corresponds to K 49,920 per annum or K 4,160 gross per adult landowner per month'.

'Landowner[s] will [also] hold about 5093 shares valued at about 385,031 and producing annual dividends of some K26,076 in addition to the royalty stream'
 

'Adult Bougainvillean excluding landowners will own 566 BCL shares worth K42784 producing K2,896 dividend per annum'.

'It will create thousand[s] of jobs for us and provide a FREEPASS to every Bougainvillean for free education, free healthcare and good income opportunities'.
U-Vistract would blush at such bold claims.
Less credence has been given to the unfavourable global economic conditions, the considerable risk involved, the evidence of strong local opposition, foreseeable damage to the environment, or indeed the likely origins of an 'angel' investor who might come in and invest the billions required to reopen Panguna (and the pound of flesh they would want in return, for such a high-risk investment). 
Also while BCL is now 'the devil we own' – what does this actually means. BCL holds little in the way of tangible mining assets, and may be heir to liabilities emerging from previous corporate actions (although BCL states in its 2016 annual report 'the company is not aware of any liability being incurred under any environmental legislation', and has previously discounted liability for war crimes committed by the PNGDF, using BCL logistic support).
Even by Rio Tinto's own admission: 'The carrying value [of Bougainville Copper Limited] has previously been fully impaired and therefore the transfer resulted in no financial impact for the year ended 31 December 2016'. In other words, the 'gifting' of BCL to the ABG and PNG governments resulted in no financial loss to Rio Tinto, because from Rio Tinto's perspective the company is of no value. 
Moreover, the 'devil' is something of a shell of its former self – it has no Managing Director, while three managers are being retained as consultants***. It also has to be questioned why a Prime Minister who was head of state when the PNG government committed some of the worst human rights abuses during the conflict, now enjoys an annual fee of K151,000 as a BCL Director, and indeed why BCL appointed another former politician as Director – with support from PM O'Neill and President Momis – who was found guilty of three misconduct charges by a Leadership Tribunal in 2007, and featured negatively in a Public Accounts Committee report for his involvement in the Konebada Petroleum Park Authority.
That aside, it ought to be noted, there is also strong consensus among both researchers and the grass-roots, on some of the more significant threats confronting any long-term economic strategy – and that centres on poor governance and corruption. Considerable evidence has been accumulated on grand corruption, mismanagement and irregular transactions inside the ABG, at levels which might be described as systematic; yet the issues remains unnervingly untouched.
To use two notable examples:
The National Court  implicated Bougainville's Minister for Economic Development, Fidelis Semoso, in the misappropriation of K2.7 million, which the Court claims Semoso benefited from through a K470, 000 payment to his wife. The National Court  did not stop the Momis government from appointing Semoso to a key Ministerial post.
Auditor General findings that the: 'Autonomous Bougainville Government did not have in place a corporate plan with clearly identified corporate goals, objectives and strategies to enhance service delivery. I was not able to review procedures and mechanisms devised to facilitate effective service delivery to its people. Further, I was not able to test the integrity and reliability of Autonomous Bougainville Government internal controls and risk management procedures … As at the time of my audit inspection the Autonomous Bougainville Government did not have in place an Internal Audit Function'. It is added by the Auditor General: 'I was not able to ascertain the extent to which the Autonomous Bougainville Government annual budget of K264,651,600 was implemented and achieved'. And perhaps most worrying of all:  'I was not able to ascertain the effectiveness of the Autonomous Bougainville Government procurement management system due to non-existence of key documents such as PSTB [Provincial Supply and Tender Board] minutes, contract files containing signed contracts, tender boxes, tenders or and quotation registers, Register of Declarations by PSTB Board members, and project management files'.
The damage of corruption and poor governance is not only the public funds squandered, it's the cultures of graft and impunity that attach to such environments, which fosters policy stasis, mismanagement and popular distrust.
All of which raise tough questions, which likely require complex answers, best produced through healthy levels of debate, knowledge exchange, and collaboration.
Indeed, everyone with a strong devotion to Bougainville's success, share one point of solidarity – a common desire to see the island thrive, with a new generation enjoying peace, culture, sovereignty, and opportunities that can see them realise their innate capacities. Differences exist on how this will best be achieved.
The reality is, Bougainville sits on the cusp of a referendum that will be one of the most significant votes in the region's history. A clear set of strategies and implementing procedures are needed to facilitate the outcomes.
One would hope the ABG is currently producing, or indeed about to publish, a detailed white paper that will set out its post-referendum strategic goals, along with indicia of success, and implementing mechanisms, modelled against all the likely outcomes.
After all, it would seem perhaps the greatest threat to progress on Bougainville, would be to find out in 2019 that the Emperor has no clothes.
*Dr Kristian Lasslett is Director of the Institute for Research in Social Sciences, Ulster University, UK. He is the author of State Crime on the Margins of Empire: Rio Tinto, the War on Bougainville and Resistance to Mining
**The author is a member of Jubilee Australia's Research Committee.
*** BCL states in its annual report 'since 12th September 2016, the company Secretary and Community Relations Manage have provided management services to the company under consultancy services agreements. On 1st January 2017 an Exexutive General Manager was retained under a consultancy services agreement. Going forward, due to the company's small size and non-operational status, there is no Managing Director'.
 Table 1 – Bougainville Interview Data
PEACE, (SECURITY) AND DEVELOPMENT ANALYSIS – BOUGAINVILLE.
EMERGING FINDINGS. DISCUSSION DRAFT.
Author: ABG and UNDP
Date: 2014
Methodology: Interviews and group conversations with 1,100 Bougainvilleans; and literature review.
Key findings
There is a broad popular perception that the ABG in its focus on the Panguna mine has largely neglected other sectors, such as tourism or alluvial mining, but especially agriculture which provides the livelihood for most Bougainvilleans. Not surprisingly, there is considerable interest among Bougainvilleans for the smaller scale, slower development path. This not only because that is where their livelihoods lie, but also because they see it as less controversial and conflict-triggering, and more environmentally friendly. The years under blockade showed the remarkable resilience but also creativity and inventiveness of the people of Bougainville, vital capacities that are undermined by approaches that offer too much money too easily.
The ABG's Medium-Term Development Plan 2011-2015 (possibly only concluded in 2013?) doesn't raise the question of development model options, but the 2010 Economic Development Policy wants to pursue both at the same time: "large scale industrial enterprises such as mining and broad-based economic development based on natural resources such as cash crops." Nobody among the Bougainville population seems to know much about these policies and plans. Some countries in the world of have been able to combine both relatively well, others not so well. But combining both is easier in a large country than in the small geographical, demographic and social 'pond' that is Bougainville. As the Panguna mine shows, a big stone in a small pond has big ripple effects everywhere.
'Coconut or copper' – what society does Bougainville want to become? There is a urgent but non-existent public debate to be had about the development model that Bougainville wants to follow. This is not a purely economic debate; the choices, as Bougainvilleans have already experienced, have major social and cultural consequences. The end-of-spectrum options are on the one hand the fast track, capital intensive, larger scale, development model that is well represented by the Panguna mine but also by e.g. the Torokina Palm Oil project, and on the other hand, the slower, smaller scale, less capital intensive model. This is less profitable in absolute numbers but offers more equitable opportunities and benefits. The first approach implies a stronger engagement with and presence of 'outsiders', the latter has more opportunities to remain Bougainville driven and –owned. Bougainvilleans need to not that also the latter approach still relies on a cash economy, and will have social, cultural and political impacts.
Governments that rely mostly on the extraction of natural resources to provide their income, have less incentive to build the governance relationship with their citizens, that enables the raising of revenue via taxation without extensive and expensive enforcement.
An attempted 'consultation' process in the form of 'Mining Forums', is perceived as an attempt to convince people to be favourable to the re-opening of the Panguna mine rather than a genuine consultation. In that sense it increased the distrust.
There is both demand and 'advise' for more participatory governance and policy making. This will require however changes in attitudes and collaborative leadership at many levels, but also new ways of working.
There is a 'truth' telling aspect in traditional reconciliation processes. But there has been as yet no meaningful effort to document and verify what actually happened, so that Bougainvilleans can learn from the past. At the moment it seems there is no broader and verified historical narrative that the current generation can offer to the next ones, at home and in school.
[There is] widespread suspicion that Australia's engagement with Bougainville today is largely driven by self-interest in the Panguna mine. Several Australian programmes are –rightly or wrongly- perceived through that lens. These include the Panguna Peacebuilding Strategy (which received support from a then AusAid programme and now from the 'Strongim Pipol, Strongim Nesen' Australia-supported programme) and even the 'Render Safe' operation in Torokina.
Peace and Development Analysis: Findings and Emerging Priorities
Author: ABG and UNDP
Date: 2014
Methodology: Interviews and group conversations with 1,100 Bougainvilleans; and literature review.
Accessed at: http://ipat-interpeace.org/resource/development-emerging-priorities-interpeace/
Note: This is the final report, the above is the draft report.
Key Findings
Key findings suggest that Bougainville is not post-conflict, as the historical drivers of conflict remain present today. Bougainvilleans still resist outsiders because of a perceived threat to Bougainville's resources. Unfortunately culture and identity, unequal distribution of benefits and costs related to resources, internal jalousies and disputes and leadership rivalries are still pervasive.
The PDA [Peace and Development Analysis] highlights effective governance as an important prerequisite for a strong future of Bougainville. Efforts so far at strengthening governance have been neither visible nor convincing to the Bougainville population at large and will significantly undermine peace building efforts if not expeditiously addressed. Anecdotally economic development must constitute a strong pillar that should support Bougainville's future however, there has not been convincing evidence for this to the people of Bougainville that this is likely to be achieved. The PDA suggests a stronger demand for investment in the non-mining sector where most Bougainvilleans get their livelihood.
Whatever trajectory is chosen, The PDA vividly points out that most Bougainvilleans are of the view that there is stagnation on the issues that matter most, but are not mobilizing into collective action to address them. This is mostly hampered by the lack of collaborative leadership that is widely disconnected with the people. The analysis also opined that the people of Bougainville were not in a position to make informed choices in the 2015 elections and also in the referendum to be held 2015-2020.
Development efforts in Bougainville are reported to have been largely unconnected to peace and security and there is evidence abound that development resources and investments can be a significant driver of conflict. There is increasing dispute over land in Bougainville as a whole, and the Panguna mine experiences highlights the critical tension point of how benefits and costs are shared, as well as the sensitivities towards outsiders. Development has to be pursued with great sensitivity to conflict to avoid doing no harm.
The indications are that personal trauma remains widespread, more than fifteen years after most of the violence subsided, and is to a degree being transmitted to the next generation.
There is a major disconnect between the ABG and the citizens of Bougainville. People acknowledge progress in the rehabilitation of infrastructure and the revitalization of health and educational services, but the ABG has low performance legitimacy with regard to many other issues that matter: political unity, increased public security, strengthening of governance capacities at all levels, improving economic opportunities and development of relevant skills. Various experiences and perceptions contribute to this state of affairs: the limited amounts of money that reach the local level; the lack of transparency and accountability at all levels about budgets, allocation choices and how the money has been spent (Open Budget); corruption (real or perceived); individuals associated with the ABG who have not reconciled with the people; poor performance of the public service including the police (absenteeism, lack of competency, lack of leadership); failure to communicate timely, relevant and trustworthy information about critical issues; lack of the ability to meaningfully participate in critical policy questions for Bougainville; and consultations that are perceived as attempts to make people accept an already decided policy choice (the Mining Forums).
Demand for bottom-up governance: People don't just want a better functioning and better communicating ABG and House of Representatives – they demand less top down and more bottom-up governance.
Strong demand for investment in the non-mining sector: The PDA confirms the Autonomy Review observation that the non-mining sector, where most Bougainvilleans seek their livelihood, has been neglected. There is a strong demand for the creation of downstream processing facilities to add value, but also for more internal markets, access to credit (Bank South Pacific puts conditions that most cannot meet), agricultural extension services and technical training relevant for an agro-based economy. This demand is sometimes reinforced by reservations about the consequences of re-opening the Panguna mine, and a desire to preserve and protect Bougainville's environment.
No structured support for small scale and medium enterprise business development: While it is not too difficult for Bougainvilleans to start up a small business (there are serious challenges for non-Bougainvilleans), there is so far neither policy nor practical support from the government to do so. In addition, business people cannot count on police protection of their business. As a result, business people are reluctant to pay taxes.
Re-opening the Panguna mine: As mentioned earlier, there are at least four different, meaningful perspectives on this question. The PDA found no evidence of majority support for any one of them. The far more important finding however is that Bougainvilleans are not in a position to develop an informed opinion and make an informed choice. This is not limited to broad access to and understanding of the Mine Bill drafts. Land ownership remains a critical issue, and has relevance beyond the Panguna mine area, with at least some Bougainvilleans contesting state ownership of the resources underneath the soil. Furthermore, most Bougainvilleans have no access to detailed information from a source they trust, such as how long it would take and how much it would cost for the mine to be re-opened, what the projections are of the revenue it is likely to generate (reportedly such projection are available, but not widely known or easily accessible), what share of that revenue can be realistically expected to stay in Bougainville, and how that would be shared. Nor do they have enough trustworthy information about what the environmental impacts might be with today's technology and knowledge.
There is certainly a strong strand of opinion among Bougainvilleans in favor of the 'small is beautiful' vision. It is of course possible to try and combine both, as the 2010 Economic Development Policy proposes. But this is easier in a larger space: Bougainville is a geographically and demographically small space: major interventions can have far-reaching impacts.
The rapid, capital-intensive path may be too easily associated with negative impacts. Many other countries with important natural resources (oil, gas, gold, bauxite, copper etc.) have managed them in ways that increase the potential for conflict: where resources wealth is accumulated by a small political and economic elite, rather than shared widely, social inequalities may increase rapidly. Further, since government can be funded from resource extraction revenue, it doesn't need to tax the people, and hence has little incentive to govern in participatory, transparent, responsive and accountable ways. Environmental protection laws may exist but are not enforced. However some countries are managing the revenue from national resources for the public good, investing in communities today and in future generations, and have strong and enforceable environmental protection policies in place. The 'small is beautiful' non-mining sector based vision will have to take into account the projected futures for copra and cocoa as primary products, and the competitiveness (in terms of price/quality) of more processed products on regional and world markets.
The current ABG leadership has appropriately been drawing attention to the economic viability of an independent Bougainville, but that question is not on the forefront of most people's minds. The issue was also too quickly linked with a drive to re-open the Panguna mine, presented – and/or perceived – as the only available option. The valid question of the economic and/or fiscal viability of an independent Bougainville has therefore become marred in suspicions about foreign and personal interest agendas related to the mine.
The development partners are not making available to the Bougainville authorities and people relevant experiences and approaches from other countries. This includes for example insights into the experiences of places that chose autonomy (Aceh) or independence (Timor Leste), of the challenges that new countries have faced after independence (Timor Leste, Kosovo, South Sudan), of the different political economies in the management of major natural resources. Many if not most people in Bougainville are also not aware of global platforms such as the International Cocoa Organization, or of global movements and experiences with approaches such as the Extractive Industries Transparency Initiative, the Round Table on Sustainable Palm Oil Standard and the Palm Oil Buyers Scorecard, or the Open Budget and participatory budgeting movements.
Voices of Bougainville
Author: Jubilee Australia
Methodology: Interviews with 82 leaders and landowners in the mine affected area.
Date: 2014
Accessed at: http://www.jubileeaustralia.org/page/resources
Note: This report was abruptly dismissed by the ABG, as being flawed and inaccurate. It is notable, however, the close correlation between the ABG/UNDP's own findings, and Jubilee Australia's results.
Key findings
Opposition to the opening of the mine was near universal; individuals not only expressed their personal opposition but reported that this was the feeling of the majority in the area. The three main reasons for this opposition were: the negative environmental and social consequences associated with the first period of mining, the role the mine played in sparking the conflict, and the lack of meaningful reconciliation and justice, associated with which is ongoing trauma from  the conflict period.
Respondents were deeply critical of recent consultations surrounding the proposed reopening of the mine. Some felt that the consultations had not been sufficiently inclusive of communities that would be directly affected by the reopening, and that youth, women and elders had been excluded and/or their opinions disregarded. Others felt that they had been poorly represented by the landowner associations or their elected representatives; others felt that there had been misleading statements in the media about the enthusiasm of Panguna residents for the mine reopening, and about what the reopening would mean. Others still appear to have deliberately chosen not to engage because of ongoing trauma associated with the conflict, and mistrust of the actors pushing for reopening.
Interviewees' expressed a desire for more microprojects, and increased support for subsistence farming. This reflects respondents' wish for a development that is localised, based on improving people's current living conditions, and is respectful of their traditional ways.
When discussing alternatives to mining, all interviewees (64 plus the FGD) but one stated that there exist many other promising economic activities that could represent a solid source of revenue that would buttress Bougainville's future development and wellbeing. This included: Horticulture;  Animal farming & subsistence animal farming; Alluvial gold panning; Fisheries & Fishing & prawn farming; Forestry & logging; Carbon trade; Water-export; Micro projects; Transformed goods & industries; Hydro-power; Timber; Tourism & eco-tourism.
Table 1: Interview data