Selective responses to justice under Covid-19 in Ireland / Dr Ruth Fletcher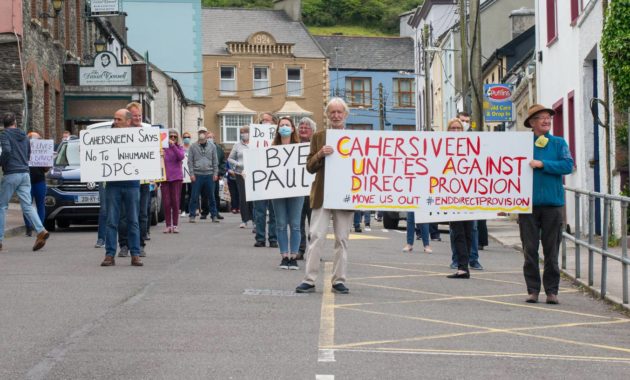 As Ireland passes through the second anniversary of the abortion rights referendum and the fifth anniversary of the marriage equality referendum, civil society is remembering those achievements, and reflecting on the hurt.   Translating decades of campaigning into everyday political engagement and two successful referenda results demanded a lot of energy.  Back in those Mays, there was a feeling of Ireland catching up on itself, accelerating through a global cloud of populist democracy-trashing, but coming up against a hierarchical politics of respectability in the struggle for reproductive justice.  People up and down the country repurposed catholic connections and sought restorative justice from a state which had colluded with the church in humiliating (not so) 'fallen women' and 'queer folk', but whether they are being heard on their own terms continues to be a live and fraught question.  At the same time, hesitations over a celebration of 'progress' were visible, as poor and discriminatory public support for health and welfare depleted the love and care, which had been freed up by the votes in uneven ways. 
In this May, these mixed feelings swirl through current responses to the COVID-19 public health crisis.  Rent and eviction freezes, once thought unconstitutional by some, have been adopted by law, but armed police and 'spithoods' have been seen at checkpoints enforcing the 2km (5km since 18 May) limit on movement.  The 5 phase programme to re-open society and lift the lockdown began on 18 May with a new phase of openings expected every three weeks.  But the emergency police powers, discussed below, remain.  As elsewhere, the crisis has brought out the best of Ireland.  Volunteers signed up to the public programme to 'be on call for Ireland', private hospitals were brought into the public system, and a temporary mortuary was built on the grounds of the Irish Museum of Modern Art.  But a more brutal Ireland of policed borders, crippling institutionalism, and class hierarchy, is there too.  Checkpoints, direct provision centres and the UK border in Ireland, are reminding everyone that some – poor, racialised, young, othered – bodies have already been made more vulnerable by practices of exclusion which COVID-19 has laid bare. 
Tensions between welfarisms
These tensions between welfarisms which enable and those that suffocate were evident in Ireland's move to restrict the spread of the virus, and in the reaction to it. On 27 March 2020, two weeks after the first death due to Coronavirus on 11 March, and a month after the virus was first identified in Ireland on 29 February, the details of the lockdown plan were communicated.  Two pieces of emergency legislation passed through Oireachtas Eireann (the Irish Parliament) by 26 March.  They gave government ministers powers to pass regulations and orders to implement restrictions for the purposes of limiting the spread of the virus.  The Health (Preservation and Protection and other Emergency Measures in the Public Interest) Act 2020 and the Emergency Measures in the Public Interest Act 2020 address a range of social, civil and economic issues.  The former provides for the powers to restrict movement and participation in social activities.  It does so by amending existing public health legislation i.e. the Health Act 1947 and providing for general and specific powers to adopt necessary measures to prevent the spread of coronavirus.  The measures include specific powers to restrict travel within and across state borders including with Northern Ireland, to require people to remain in their homes or in specified places, to prohibit events or classes of events, and to require safeguards to be put in place by event organisers, owners or occupiers of a premises, managers of crèches, schools, universities or other childcare or educational facilities.  This Act also amends the social welfare legislation in order to provide an illness benefit of €350 a week for those with or expecting a diagnosis of COVID-19.  Administrative action by the Department of Employment Affairs and Social Protection has resulted in a COVID-19 Pandemic Unemployment Payment of €350 for those made unemployed as a result of lockdown.  Asylum seekers living in Ireland's much criticised direct provision system are not eligible for this payment (with thanks to Liam Thornton for this point).    
The legislation has been implemented through the adoption of Regulations authorized by the Minister for Health, the first of which was adopted on 7 April and came into effect on 8 April, with the original intention of running until 12 April (SI 121), then the 5 May (amendment regs SI 128), then the 18 of May (SI 153), and now until the 8 June (SI 174).   As the easing of lockdown began on 18 May, the new regulations have modified the restrictions e.g. through extending the distance people can move to 5km.  The Irish Council of Civil Liberties (ICCL) has called, jointly with others, for a human rights impact assessment of the measures and continues to call for a return to policing by consent rather than coercion.  An Oireachtas Special Committee on COVID-19 has been established to hear evidence and inform and scrutinize decisions, and is due to hear evidence on care homes and direct provision centres the week beginning 25 May.
Evaluating legality
The judiciary has been asked to evaluate the measures in the context of a rightwing libertarian challenge to the legislation, which the High Court had no trouble dismissing; see O'Doherty and Waters v the Minister for Health Ireland, the Attorney General and Dail Eireann, Seanad Eireann and the Ceann Comhairle [2020] IEHC 209 (2020 271 JR).  On 13 May, Meenan J gave his ruling after a hearing on 5 and 6 May (see a news report here).  The applicants had sought a judicial review of the legislation claiming among other things that the statutory measures restricting movement were disproportionate in their infringement of constitutional rights (including family rights 41.1.1, freedom of conscience 44.2.1, rights to bodily integrity, peaceful assembly and liberty under Article 40).  Interestingly, the judge begins his judgment and lays out the factual context for the application by referring to the World Health Organisation's tracking of the outbreak and its January announcement that COVID-19 represented a Public Health Emergency of International Concern.  Charles Meenan J ruled, citing the Supreme Court in Esme v Minister for Justice and Law Reform [2015] IESC 26 on the need for an applicant for judicial review to show that an argument "was not empty" (para 27), that they had not shown that they had an arguable case, that the constitutional rights they invoked were not absolute, and they had not presented evidence to attest to a disproportionate infringement of rights. He comments further: "[U]nfortunately, in making their case for leave the applicants, who have no medical or scientific qualifications or expertise, relied upon their own unsubstantiated views, gave speeches, engaged in empty rhetoric and sought to draw an historic parallel with Nazi Germany – a parallel which is both absurd and offensive. Unsubstantiated opinions, speeches, empty rhetoric and a bogus historical parallel are not a substitute for facts."  The weakness of the claim means that there is not much in the way of substantive argumentation on the balancing of individual rights with public health interests that emerges from the case.  Nonetheless, the judicial citing of the WHO, the criticism of the 'empty' manner of legal engagement, and the affirmation of the need for a logical evidence-based argument in order to assess whether individual rights had been disproportionately infringed in the name of public health measures, are welcome aspects of the judicial response which may travel elsewhere.
Policing restrictions
Police checkpoints have been set up by the Garda Síochana throughout the country in order to check on people's reasons for travelling and assess whether they amount to a 'reasonable excuse'.   The official position is that the purpose of the policing measures is to seek compliance and that prosecutions will only be used in the last instance.  Breach of the penal public health provisions constitutes a class C offence, carrying the possibility of a fine, of up to €2,500, or 6 months imprisonment.  By 25 April, 76 people had been arrested because they were more than 2km from home without being able to show they were making an essential journey and after they were not receptive to being urged by gardaí to go home.  Garda conduct at the checkpoints has come under scrutiny by the Policing Authority, with Authority member Dr Vicky Conway commenting that reporting on the use of these exceptional powers was imperative. The ICCL has asked for information on policing activities undertaken in pursuit of these powers, including the number of checkpoints and the interpretation of 'essential travel' and 'reasonable excuse'.    
The police are usually not armed in Ireland, although particular units are armed.  Armed members of the police force have been seen at checkpoints however, causing concern that this policing presence is more threatening than usual.  The Minister has defended the presence of armed guards as 'support' for unarmed colleagues, support which is targeted at the policing of organised crime.  Other concerns address the possibility that police are being over-intrusive in inspecting those who are stopped e.g. by looking through their shopping or belongings, and the use of spithoods.  Spithoods cover the face of someone being detained or arrested and have been defended as a response to incidents of malicious spitting.  Their effectiveness in preventing infection has been questioned, and hooding could constitute degrading treatment in breach of human rights protections. The Minister reported that guards did not have the right to look into people's shopping and that spithoods had been used a total of 15 times by the 25th April, but never on children.  Clearly there is a need to hold the guards to account on the exercise of these powers and on the exceptional use of arms and hoods in the process, and to reduce if not eliminate coercive policing with all its potential for violent and discriminatory effects.
Uneven impacts 
There has been extensive disquiet about the uneven impact of these measures particularly given their potential to exacerbate already existing disadvantage.  Those living in confined circumstances for different reasons – women living with domestic violence, those living in direct provision, prisoners, and those living in care homes – are among those who have been, or are likely to be, disproportionately impacted by the virus and the public health restrictions taken to contain and limit its spread.  Direct provision is the system for accommodating asylum seekers in Ireland, which sends people to live in former convents, barracks, hotels, holiday homes.  It has been extensively criticised as a form of institutionalism which stigmatises, segregates and isolates residents. Moreover, it repeats past poor practice in using institutions to characterise particular groups of people as 'social problems' with negative consequences for their well being.  Unsurprisingly, direct provision has emerged as a site of major concern, as residents are unable to protect themselves adequately from infection, and are vulnerable to over-policing.  Given residents include members of racialised minorities and vulnerable people who have escaped persecution elsewhere, the situation is likely to exacerbate existing inequalities.  Living arrangements mean that residents share eating areas and have little privacy.  As a result they cannot 'social distance'. There have been reports of residents being 'advised' that they cannot leave the centre e.g. Cahirciveen at the same time as centres are seeing the spread of COVID-19.  The ICCL has raised concerns about whether such restricted living arrangements amount to arbitrary detention given that the powers to detain apply to individuals and not to institutions nor to all individuals inside institutions.  They have pointed out that the corollary of the restriction under section s.4.1 of the Health Act 1947 (Section 31A – Temporary Restrictions)(COVID-19) Regulations 2020, is that "everyone has the right to leave their place of residence if they have a reasonable excuse", and shopping and exercising count as reasonable excuses.  
Escaping domestic violence is recognised as a legitimate reason for leaving home, and there has been a 20% increase in reported incidents, compared to this time last year.  Years of campaigning to improve police responses in the context of gendered violence have meant that there is better co-operation between the guards and those who run refuges and support centres for survivors of and their children.   While the supports have improved, the threat of violence has not diminished and is being exacerbated by the stressful conditions of lockdown. The Domestic Abuse Intervention and Policy Unit of the Garda National Protective Services Bureau have launched Operation Faoiseamh (relief) where guards will be proactive in contacting those who have previously reported domestic violence.  Two years after a legal source of violence against women and pregnant people was removed from the Constitution when the abortion ban was repealed, the emergency has brought about the permission and establishment of a remotely administered abortion service (see an explanation of the IFPA service here).  Those who do not meet domestic legal criteria, such as the 12 week gestational time limit, continue to rely on the voluntary support of groups like the Abortion Support Network or Women Help Women.
Public responses
Compliance seems to be high and public trust in the Chief Medical Officer Tony Holohan, who leads on co-ordinating the public health response and the regular public briefings, seems to be holding.  One current risk for public trust however, is the fact that the situation is being overseen by a caretaker government.  The acting Taoiseach (equivalent of Prime Minister), Leo Varadker, and the Fine Gael government are running the country and responding to the crisis, but do not actually have a mandate.  There was no clear winner of the general election on 8 February with public support fairly evenly split between three parties Fianna Fáil (38 seats), Sinn Féin (37) and Fine Gael (35), and a number of other smaller parties such as the Green Party (12) and the Social Democrats (6) winning seats alongside a range of independents (19).  Fine Gael, Fianna Fáil and the Green Party have agreed in principle to work together on a programme for government and negotiations as to that programme continue.   The result of this arrangement is that the political party who won the second largest portion of the vote, had its strongest ever showing, and whose leader, Mary Lou McDonald, had most, if still insufficient, support from the members of the elected house when it met on 20th February, will not be participating in government. Moreover, both Fianna Fáil and Fine Gael have made the unprecedented decision to work together, and not to work with Sinn Féin.  
The relative success of Sinn Féin, and the weak showing of the then ruling party was widely seen as the result of public frustration at the failures to develop a public infrastructure which would share the benefits of economic growth.  Public concern over poor transport, inadequate housing, health care and childcare turned into unprecedented support for Sinn Féin, support which had not been predicted mere months before.  A story about callous treatment of a homeless man, who was seriously injured as authorities performed a cleaning operation and removed tents alongside the banks of the canal in Dublin, crystallised public concern over unequal sharing of any returns from economic growth twelve years after the disastrous public bail out of the banks.  The polls report that public support for Fine Gael has been shored up in response to their management of the public health crisis, but it remains to be seen how the public will respond to the exclusion of Sinn Féin from government.  Sinn Féin's promise to tackle health and housing was popular with younger voters in particular and is sometimes framed as evidence of a Mouffe and Laclau kind of left populism.   How will their exclusion, by the coming together of the two parties who have held power since the foundation of the state in 1922, play out as Ireland turns towards an economic downturn and continued civil restrictions?  COVID-19 related concerns over selective justice in governance, policing, hospitals and homes, speak to ongoing tensions over failures to respect the civil rights of those who participate in the reproduction of everyday life.     
(This Blog is a longer version of one that was published on 4 June 2020 here.)
Dr Ruth Fletcher is a Senior Lecturer in Medical Law at Queen Mary University of London