Together, civil society and the ABG must confront mining injustice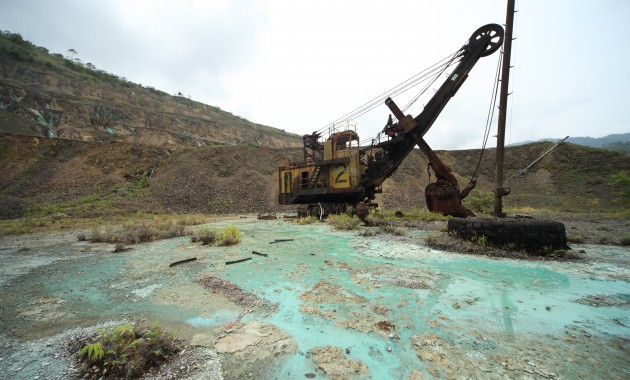 Dr Kristian Lasslett – 30 June 2016
It was announced today that Rio Tinto will be disinvesting from Bougainville and handing over its shares in Bougainville Copper Limited (BCL) to the Papua New Guinea and the Autonomous Bougainville governments.
According to a press release issued by the Bougainville President's office, this move was made unilaterally. Evidently no offer has been made by Rio Tinto to repair the environmental and social damage caused by its mine, which is situated in Bougainville's Panguna region.
President Momis claims, 'in past meetings, I insisted that Rio accept responsibility for mining legacy issues. When I met their officials last night in Port Moresby, they flatly rejected any responsibility for their contribution to the damage done by the Panguna Mine'.
He continues, 'Rio is now deeply hypocritical in its blatant disregard of the higher corporate responsibility standards it says it has adopted. It now seems Rio has no commitment to social responsibility or sustainable development principles. It talks those principles only when that helps its profits. But it throws them out when costs to its bottom line could be involved'.
Momis is perfectly entitled to this view. However, it represents a significant policy shift.
For the past five years President Momis has bitterly attacked a wide range of actors who have attempted to clinically evidence the damage caused by the Rio Tinto subsidiary BCL, and bring about justice oriented initiatives.
The former work has taken place along two tracts. Forensic research has documented BCL's complicity in PNGDF actions, which led to the significant loss of life and property (for a short summary see here). Alongside this, fieldwork has also been conducted within mine affected communities to hear their contemporary concerns about the prospect of BCL's return, in an effort to prevent a reoccurrence of past tragedies. The hope has been this methodical work would spark the conscience of allies in civil society and government, so remedies could be delivered to those who have suffered.
While it has had some success, we have sadly faced sustained fire from influential factions within the ABG. Despite the strong opposition that continues to be vocalised in mine impacted area, President Momis has maintained Rio Tinto/BCL must be allowed to return and reopen the mine. 'Better the devil you know' became the campaign slogan for this controversial position.
Civil society actors and landowners, in response, contended that not only is this unfeasible from a practical standpoint – given local opposition and commercial fundamentals – it was also argued there is no evidence to support the proposition that Rio Tinto would of its own accord admit liability for past wrongs, or indeed remedy them. Its prior corporate conduct on Bougainville, and globally, suggested much more robust measures would be required.
This stance attracted significant condemnation from the President.
Speaking personally, I have been subjected to many unedifying assaults launched by President Momis, for voicing the conclusions that emerged out of my decade long research into Rio Tinto and the Panguna mine. In a letter written on 24 October 2014, the President claimed:
But he [Kristian Lasslett] is cocooned in a particular view of Bougainville's history, one he shares with a small group of others, and which shapes all his views on Bougainville.  He is focused on what he sees as not only the single worst set of wrongs that has occurred in Bougainville – namely actions of Rio Tinto/BCL in the 1988-1990 period – but also the imperative to hold Rio Tinto/BCL to account for such wrongs. In his view, Rio Tinto/BCL can have no place in contemporary Bougainville without first being held to account.
Of course, this was not simply my view, it is a strong view shared by a large range of actors in the mine impacted community, who yearn for justice.
The President has not been the only official to launch scathing attacks against critics of Rio Tinto's conduct. For example, the current Autonomous Bougainville Government (ABG) Speaker took to the blogosphere in order to argue:
Kristian Lasslett works and schemes from Ulster in Northern Ireland (UK). On matters concerning Bougainville he is the self-made expert – chopping, pasting and moulding Bougainville like plasticine to be forced into his desired shape and form … Kristian will swear by his comments and views, defend them and feed them to anyone who likes to lap up tales of deceit and conspiracy against Bougainville by mining giants and governments.
On Facebook an ABG Department of Mining official took a swing stating: 'If you feel so high and mighty about bringing BCL to justice why don't you take it up in your own backyard (Australia) or in your own forum. I Hear the abos* are getting ripped off by the mining cos too!'.
This is a small taste of the nicer comments that have populated a long standing campaign waged by certain government officials through letters, press releases and online posts, to discredit those people, including many Bougainvilleans, seeking to bring Rio Tinto/BCL to account. Just as reprehensibly we have seen a number of international scholars joining in at times with juvenile and misleading smears, designed to belittle and caricature the serious working being done to bring corporate and state actors to account. The target has been the man, and rarely the ball.
The whole regrettable situation was captured succinctly by one commentator in 2013:
Sadly political leaders on Bougainville charged with responsibility for peace-building have largely abrogated their domestic and international obligation to challenge impunity and seek redress for victims of gross human rights violations. Indeed, in perhaps the most gutting blow for victims, Bougainville's President has aligned his government with Rio Tinto, a company he once accused of ordering and facilitating the [war] atrocities.
Despite suggestions to the contrary,  the quest for justice is not an agenda set by foreign 'do-gooders' or convenient fools acting in the interests of backdoor players. It is one that has been established and pursued by a significant number of people in the mine impacted regions and beyond who wish to stand up for their internationally recognised rights as victims to truth, accountability and justice.
However, the is no point dwelling on past contention. Now is a time for mending bridges and moving forward. If landowners, the ABG and international civil society can link up in common cause to bring Rio Tinto/BCL to account, there is a much greater chance of success. The divisions and slanging matches to date have helped nobody. Worse than that it has given Rio Tinto the time and space to extricate itself from Bougainville, without confronting its damaging legacies.
These past divisions must be forgotten. The ball is now in the ABG's court – there are strong, committed activists on the ground in Panguna, and committed experts, locally and internationally, who are prepared to loyally serve any initiative it might spearhead to bring about justice for victims. Repairing the harmed ecoystems and damaged lives, that is what matters now.